May 21, 2013
Denver's Applewood Plumbing Joins Reins with the SaddleUp! Foundation
Currently, more than nine percent of Colorado's population suffers from a wide range of disabilities including Down Syndrome, Cerebral Palsy and Autism. The SaddleUp! Foundation has helped thousands of people through their programs and unique th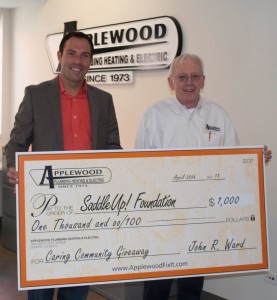 erapy and plans to expand to more than 300 individuals weekly in the next year.
The SaddleUp! Foundation in Parker, Colo., is the April winner of the $1,000 Caring Community Giveaway Award from Applewood Plumbing Heating & Electric.
"This foundation helps young adults with disabilities and brings smiles to their faces when they get to work with horses," said John Ward Applewood Plumbing Heating & Electric president. "These programs are essential and bring communities together through great programs and volunteer work."
The SaddleUp! Foundation  provides therapy for the mentally, emotionally and physically challenged through outpatient Physical, Occupational and Speech therapies to children with a wide variety of disabilities. Like other equine therapies, SaddleUp! Foundation uses horses as a therapy tool. The horses provide a base of support making them a valuable tool in creating collaborative relationships for the children.
"This award means everything to us at SaddleUp! It will help us expand our programs and help the members on our waiting list be able to have the opportunity to enroll in our programs," said Adam Daurio executive director of the SaddleUp! Foundation.
Through the Caring Community Giveaway, Applewood Plumbing has contributed more than $95,000 monthly over the past nine years to small, local nonprofits like the Crohn's and Colitis Foundation and the Autism Society of Colorado.