NBC in New York did a story on dangerous Federal Pacific circuit breakers – which are known to be faulty and may have been responsible for as many as 2,800 electrical fires last year: NBC News Faulty Circuit Breakers in Thousands of Homes Could Cause Fire
Unfortunately, Colorado homeowners are also at risk. If your home was built before 1990, it may contain dangerous Federal Pacific or Zinsco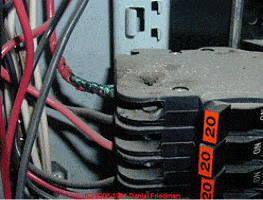 brand circuit breakers. These dangerous circuit breakers were used in thousands of homes across Colorado.
Breakers are designed to "trip" when there is a problem, which in turn cuts off electricity and acts to prevent a potential fire. Federal Pacific and Zinsco breakers are known for not tripping when they should, therefore causing wiring to overheat and eventually causing dangerous and even deadly home fires.
Please make sure your home does not contain these dangerous Federal Pacific or Zinsco breakers.
If you do find them, call Applewood immediately 303-232-6611.
To further help customers with Federal Pacific or Zinsco breakers, we are offering $150 off an electrical panel replacement and FREE Sycom Whole House Surge Protection* with a new panel purchase. Print this page to redeem these offers! *Valid on SYCOM SYC-120/240TC only.
Applewood Plumbing Heating & Electric is here to serve you for all of your plumbing, heating, cooling, electrical and drain cleaning needs. Why wait, call today.