February 24, 2016
January Giveaway Goes To ABC Quilts
"Applewood is thankful to help an organization that provides so much for local children in need," said John Ward.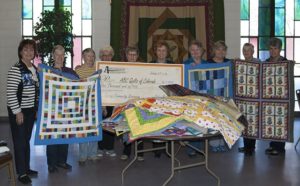 ABC Quilts is an organization comprised of more than 70 volunteers creating quilts for children in need throughout the Denver-metro area. These quilts benefit children in situations such as social services, women's safe houses, veteran family shelters and emergency rooms.
Founded in 1993, ABC Quilts of Colorado was first intended for babies born in fragile health, although they have expanded to benefit any child in need ranging from newborn to 18 years old. ABC Quilts of Colorado has created more than 20,000 quilts to date.
These quilts are all independently handmade, range from 36 to 45 square inches and each have a unique pattern. From size to design, each quilt is made differently.
"We call ourselves 'The Grandmas Making Quilts.' We are all volunteers and like to help these children in our own way," said Deonna Ainslie, ABC Quilts of Colorado president.
With the help of Applewood's $1,000 Caring Community Giveaway, ABC Quilts of Colorado hopes to purchase more batting to stuff the quilts, ensuring they provide the warmth intended no matter what situation a child might be in.