January 9, 2013
Our "December to Remember" Contest Giveaway Winner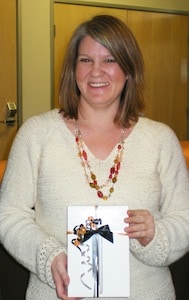 Congratulations Lisa Theisen — our "December to Remember" iPad mini Giveaway Contest winner!
Lisa received her new iPad mini from Applewood Plumbing Heating & Electric during a recent visit to Applewood's offices. She was pretty excited to have the new technology.
"I was on Facebook and saw a little blurb saying to enter the contest, so I did. I have never owned an iPad before so I thought, why not?" she said.
Theisen may be new to using an iPad, but she is not new to Applewood and its services. She is a long-time customer and has had Applewood help with several repairs.
"You guys put my water heater in and fixed my furnace, so I've definitely done business with Applewood," Theisen said.
Theisen was overjoyed to collect her iPad mini from Applewood's headquarters and said, "Now that I won, I just need to figure out how to use it!"
We wish Lisa luck learning the ins and outs of her BRAND NEW iPad mini! Thank you again to Lisa and to everyone who entered the "December to Remember" iPad mini Giveaway Contest. Applewood exceeded its goal of 1,000 Likes and looks forward to future contests. Applewood's Facebook friends can also expect to see discounted offers via Facebook. Stay tuned!