April 24, 2014
Protecting Colorado's Natural Land through Applewood's "Caring Community Giveaway"
With Colorado's dry climate, continuous water restrictions and susceptibility to drought, it's important to protect the state's environment. The Plains Conservation Center works to protect 1,000 acres of natural short grass prairie in Colorado. The center has been selected as the March winner of the $1,000 "Caring Community Giveaway" from Applewood Plumbing Heating & Electric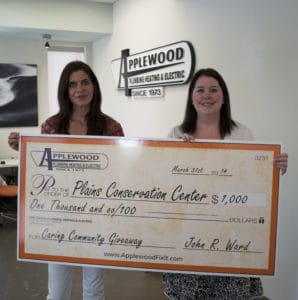 .
Applewood is glad to support the Plains Conservation Center's environmental efforts to protect Colorado's natural land. "Colorado's environment is important to all of us because it provides us with farming land, water resources and natural habitat for animals," said John Ward, president of Applewood Plumbing Heating & Electric.
The $1,000 Giveaway will help the Plains Conservation Center reach more students through the Environmental Education Program. Each year about 12,000 children from the Front Range visit the center, many of whom come with school groups or Scout troops. The Environmental Education Program helps children understand why prairie conservation matters.
"Prairies are a fast disappearing ecosystem," said Melanie Zeitler, director of Development at the Plains Conservation Center. "There are only three percent of grasslands that remain intact in the world and some of that area is here in Colorado."
The program teaches children about plains history, farming and crops. Children also learn about the difference they can have by making smart environmental choices.
"There are daily changes kids can make in their own lives such as lowering their water use or biking to school," said Zeitler.
The Plains Conservation Center is dedicated to environmental education, conservation and stewardship. Its mission is to preserve a remnant of the eastern Colorado High Plains, while educating the public about the center's heritage and nurturing sound conservation and environmental ethics.
As a heating, plumbing and electrical company, Applewood sees firsthand how saving energy and conserving water can improve the environment and the condition of plumbing and heating systems. Adults can make smart changes, too. Regular plumbing and heating maintenance and installing alternative systems can reduce the amount of energy used to power the systems. The results can be lower utility bills and a smaller carbon footprint.