August 23, 2021
Why Does a Colorado License Matter?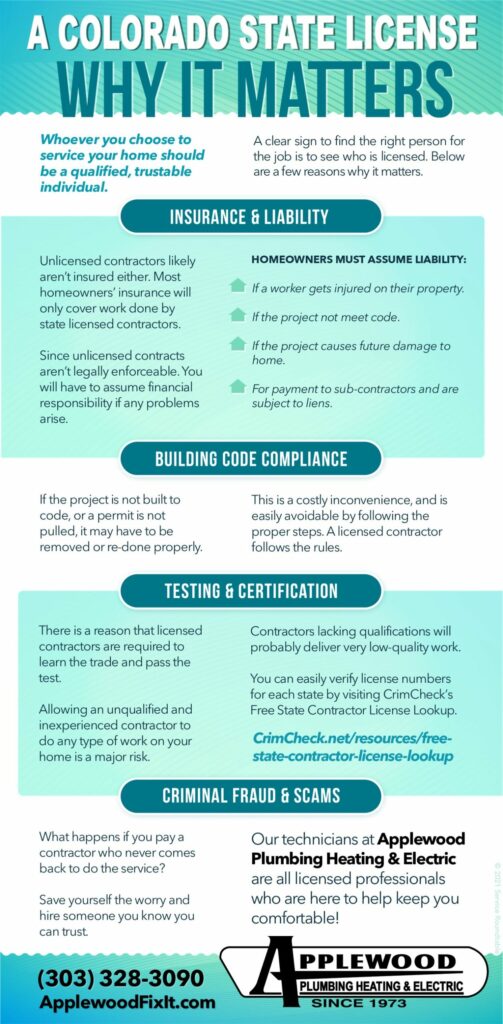 When calling around to see who can help you out in a pinch with your plumbing and electrical do you ever ask if the technician will have a license? Take a look at this infographic to see why hiring a licensed pro is so important.
Did you know that an unlicensed contractor working in your home isn't legally enforceable?
That means if something goes wrong, you – the homeowner – are liable.
There are plenty of reasons to use a licensed plumber or electrician in Colorado. A professional with a Colorado contractor license will most likely:
Also be insured.
Perform a higher quality of work.
Know the local building codes.
Be trustworthy.
All of Applewood's plumbing and electrical contractor's are licensed in the state of Colorado. If you want to be certain that you're dealing with a licensed professional, simply perform a contractor license lookup.
Go to Crimcheck and search by state for your contractor. You'll know instantly if the person you're planning to hire to work in your home has a contractor's license.
A Licensed Plumber Near Me
If you have questions about contractor liability or are looking to find a licensed electrician or plumber in the Denver or Boulder area, contact Applewood today. We'd be happy to be your trusted resource for home repairs.