March 11, 2016
World Plumbing Day Highlights Value of Plumbing Services
Applewood Plumbing Heating & Electric has more than 70 trucks and technicians servicing customers on World Plumbing Day, March 11th.
If you've ever hopped in the shower to have cold water hit you in the face or went to clean up after a dinner and found the sink clogged, you already know the value an experienced plumber can bring.
"Unplugging a toilet or installing new fixtures are the least of what we do for our customers," said John Ward, president of Applewood Plumbing Heating & Electric. "We really provide insight and solutions to help our customers make energy efficient and cost effective decisions. In short, we help people."
In Applewood's 43 years of business thousands of plumbing issues have been mitigated for Denver area homeowners, from frozen pipe repairs, updating of energy efficient toilets and repairs to clogged, fixing leaks or broken sewer lines.
In a month, 27 percent of households may experience a clogged toilet, according to a study by Kohler. The study, humorously, also found that 74 percent of women leave the seat down, while only 66 percent of men choose to re-cover the toilet.
Plumbing ranks in the top 100 jobs, according to US News, and in 2016 was ranked second among construction occupations. The profession is expected to grow by 12 percent by 2024, according to the Bureau of Labor Statistics. The amounts to nearly 50,000 jobs.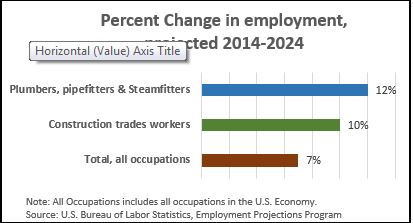 "We're always looking for qualified, licensed plumbers," said John Ward. "Our family-owned business has been built on the many talented technicians who have become a part of our greater company family." Applewood currently has more than 120 employees and has been in business since 1973.
Applewood currently has plumbing positions open with excellent benefits and opportunity for growth. To learn more about Applewood's available positions, click here.