August 18, 2016
The $1,000 July Giveaway is Awarded to Rocky Mountain Cancer Assistance
Applewood Plumbing awards $1,000 giveaway to Rocky Mountain Cancer Assistance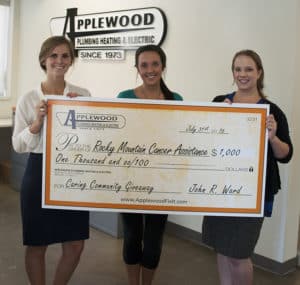 Rocky Mountain Cancer Assistance, a nonprofit organization, who provides financial assistance for the basic living needs of cancer patients receiving treatment in Colorado, is the July winner of the $1,000 Caring Community Giveaway from Applewood Plumbing Heating & Electric.
RMCA was started in 1999 by a group of doctors, patients, friends and associates of the Rocky Mountain Cancer Centers. These volunteers recognized that with treatment many patients' household budgets were stretched to their limits due to treatment and treatment-related costs. A patient's normal budget is overturned at the same time their income may be reduced because they are unable to work due to the illness. Their stress level greatly increases at the very time they need to be focusing on their health. RMCA's objective is to reduce this stress whenever possible and help ensure that patients can continue their treatment.
Rocky Mountain Cancer Assistance provides financial support for mortgage, food, health insurance premiums, transportation and other non-medical expenses. "If someone is fighting cancer they should never have to choose between their treatment and their day to day living expenses," said Anna Miller, RMCA board member. "The $1,000 from Applewood will help provide additional assistance to patients and we are thankful for their donation."  The goal at RMCA is to provide assistance to every eligible applicant that demonstrates a dire financial situation.
"Applewood is proud to assist an organization like RMCA, who is dedicated to helping those with cancer," said John Ward, president of Applewood Plumbing Heating & Electric.
Since Rocky Mountain Cancer Center started, the nonprofit organization has provided over $3.4 million in financial assistance to more than 6,400 cancer patients receiving treatment in Colorado. The program is expected to grow as they receive more applications each month as patients struggle to meet their monthly financial needs while remaining in treatment.
Applewood Plumbing Heating & Electric has served the Denver/Boulder Metro area for more than 40 years and is proud to have been named to the Denver Post's Lists of Top Workplaces and the Editor's Choice for Best Customer Service in 5280 Magazine's Top of the Town issue. They are honored to be a past winner of the Better Business Bureau's Torch Award for Marketplace Trust in the Large Business category and a recipient of the City of Golden Rotary Ethics in Business Award.
For more information or to nominate a local nonprofit for the "Caring Community Giveaway", call (303) 232-6611 or go to www.ApplewoodFixIt.com.