September 26, 2016
Applewood Plumbing awards $1,000 giveaway to Urban Servant Corps
Applewood Plumbing Heating & Electric awarded Urban Servant Corps as the $1,000 winner of the Caring Community Giveaway.
Urban Servant Corps is a one-year full-time Lutheran volunteer program in Denver. Volunteers commit to living in intentional community and embrace values of simplicity and spirituality as they serve at inner-city Denver nonprofits. USC positions are at agencies that provide immediate and direct care service as well those who advocate for lasting solutions and long-term social change.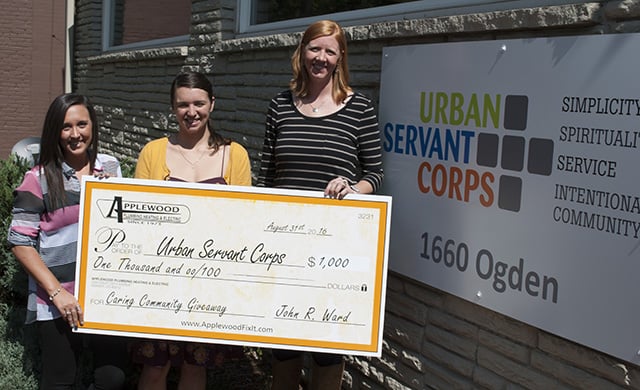 Since 1987, Urban Servant Corps' full time volunteers have contributed more than 720,000 hours of service for more than 45 non-profit partner agencies in central Denver. Urban Servant Corps prepares tomorrow's leaders through professional development, faith formation, household management, and environment stewardship. Program volunteers contributed immediate and direct service to people experiencing homelessness or in need of basic human services.
"We take great joy in helping our community; and I am inspired by the volunteers in this organization who are dedicated to serving our community," said John Ward, Applewood Plumbing Heating & Electric president. "We're always proud when we get the chance to recognize these types of programs."
Urban Servant Corps is affiliated with the Evangelical Lutheran Church however, volunteers do not have to identify as Lutheran or Christian to participate in Urban Servant Corps. USC welcomes those from all faith traditions and theological perspectives and actively welcomes individuals with diverse life experience including those of different age, race, sexual orientation, faith tradition, ability, and any other diverse background.
Applewood Plumbing Heating & Electric has served the Denver/Boulder Metro area for more than 40 years and is proud to have been named to the Denver Post's Lists of Top Workplaces and the Editor's Choice for Best Customer Service in 5280 Magazine's Top of the Town issue. They are honored to be a past winner of the Better Business Bureau's Torch Award for Marketplace Trust in the Large Business category and a recipient of the City of Golden Rotary Ethics in Business Award.
For more information or to nominate a local nonprofit for the "Caring Community Giveaway", call (303) 232-6611 or go to www.ApplewoodFixIt.com.