February 20, 2013
Denver's Applewood Supports Nationally Ranked Basketball Program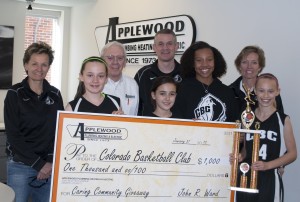 There are more than 450,000 high school female basketball athletes in the United States. Of those female athletes, only 3 percent will get the opportunity to play NCAA sponsored basketball. Denver's Applewood Plumbing Heating & Electric has named Colorado Basketball Club its January $1,000 "Caring Community Giveaway" winner, a local program devoted to helping female athletes compete at the highest level.
"We were impressed with CBC's overall mission to instill basketball fundamentals and the importance of education, family and overall character," said John Ward, Applewood Plumbing Heating & Electric president. "It's encouraging to find such dedication and hard work from a young group of athletes."
The Colorado Basketball Club represents 34 high schools within the program and has been recognized as one of the top 100 women's basketball clubs in the nation. In Colorado, CBC is the highest ranking female basketball club. In the last three years they have placed eight females in Division I, six in Division II and two at the NAIA level.
"We plan on putting the award into our scholarship fund to be able to help young girls further their development in basketball and education," said Tammy Nehaus, director of CBC. "The scholarship fund helps with travel expenses and tournament fees so that everyone gets the opportunity to be a recipient."
CBC provides young female athletes with a competitive athletic experience while instilling values of responsibility, hard work, self-discipline and motivation. They strive to teach young athletes how to compete at the college level. To do so, they travel to national viewing tournaments to help their players receive college scholarships.