October 7, 2019
4 Reasons You Should Work for Applewood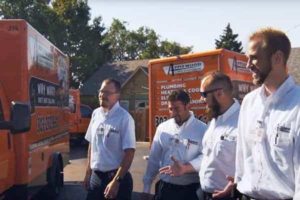 Applewood Plumbing Heating & Electric has received The Denver Post's "Top Workplace" award six times. At the Top Workplaces event, Applewood president John Ward said, "we owe our continued success year over year to our top-notch employees."
Applewood believes the most important part of developing a successful business is attracting and retaining great employees. We also believe the best way to attract and retain great employees is to give them great reasons to come work for us and stick around. From wellness programs to great salaries to matching 401K, Applewood does everything we can to make our company the best workplace in Denver. Here are four main reasons we think you should come work with us:
1. Get the support you need to succeed
Applewood provides its employees with everything they need when they're on the job, including transportation, equipment, uniforms, storage, and logistical field support. You'll have a support team behind you to manage your workload and provide you with any assistance you need. Our management teams make sure our field employees have work, you know where their work is, and always have what they need to get that work done.
Applewood's employee support extends beyond day-to-day shifts, too. We want to make sure our employees feel happy, respected, valued, and fulfilled every day they work for Applewood. To help make that happen, we created our employee ethics pledge. The pledge has four parts. We will:
Treat our employees fairly.
Assign technical and support personnel to each job in accord with their experience, knowledge and experience.
Foster training for all our employees on an on-going basis to improve and uphold high-performance standards.
Hire only personnel of high personal integrity.
Making sure our employees have everything they need to succeed isn't just an ethical imperative; it's a matter of good business. When employees are happy and supported, they stick around longer and do better work. We want to provide the best service possible to our customers. In order to do that, we have to provide best support possible to our employees.
2. Live as well as your customers
Plumbing, Electrical, and Heating work is skilled labor, a full-time job, and a lifelong career. It requires compensation to match. Plumbers, electricians, and HVAC technicians should have the opportunity to own homes, take vacations, send their kids to college, and retire in comfort. At Applewood, they can. We offer highly competitive, transparent wages for every position, along with all the benefits full-time workers deserve, including:
100% paid medical premiums for you AND your family
Dental and vision insurance
Life and disability insurance
Paid holiday and vacation time
401K with company match
Tuition reimbursement up to $5250 annually
Applewood's employees aren't contract workers; they're valued team members. We want to grow and maintain a stable team of highly-skilled, engaged workers for the long run. To do that, we take care of our team members well enough so that they want to stick around. Applewood wants to be your career destination, so we build careers.
3. Learn new skills and advance your career
Part of offering a lifetime career for employees is about creating opportunities for advancement. That's why Applewood offers clear opportunities for promotion and advancement within the company at every level. We also actively encourage our employees to pursue opportunities to learn new skills and hone their expertise. Applewood develops and hosts paid training programs and offers ongoing skilled trade training to all employees. When you work at Applewood, we'll help you learn to be better at your trade.
Applewood's commitment to helping its employees learn extends beyond our business, too. We offer up to $5250 tuition reimbursement every year. We'll help you learn new skills so you can expand your expertise and make more money. Obviously, we hope you'll stay with Applewood, but even if you don't, working at Applewood will help make you a better, more well-rounded professional. Plus, you'll have the support and job security you need to actually pursue that learning!
4. Plan for the future
One of the best parts of a career in home repair is that it's consistent. A skilled trade professional can find good work anytime and anywhere. Applewood wants you to find that work with us. To make that happen, we do more than just making sure you always have work. Applewood wants our employees to see a bright future with us, so we help them build one.
We pay well. We offer paid vacation time. Our insurance covers sickness, injury, and emergencies. Our matching 401K helps you put away money for retirement. In short: we help make sure you have what you need to live a good life. Applewood believes that keeping valuable employees means taking care of those employees. Taking care of employees means helping them use the job we provide to build a life they want. We're committed to doing that for all of our employees.
Does working for Applewood sound like a future you could believe in? Check out our employment page to learn more about us, see our current job openings, and apply! We're looking forward to being the best place you've ever worked!