May 9, 2019
Applewood Plumbing ranks 7th in Top Workplaces in Denver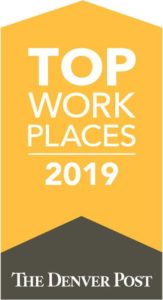 With a 45-year history in top home repair service, Applewood Plumbing Heating & Electric is proud to be recognized again with another Top Workplace award by The Denver Post. The company has received the award six times and ranked in the top 10 of mid-sized companies in this year's list.
In addition to the high company ranking, Applewood's President John Ward was recognized as the top leader among the 50 mid-sized companies honored during the May 1st event. The award is based upon survey results, of which, Ward scored the highest rating among his peers. The Denver Post had a special presentation for Ward during the Top Workplaces event program.
"We've been able to build a successful business with top customer service and ethical business practices," said John Ward, president of Applewood Plumbing Heating & Electric.  "We owe our continued success year over year to our top-notch employees and our trusted customers."
The Applewood Story
Ward started the company in 1973 with just a handful of employees and two vans. He has grown Applewood to the largest, privately-owned service company in six states with more than 160 employees and more than 300,000 customers over the last four decades. The company currently has more than 100 bright orange service trucks on the road daily to meet home repair needs from Longmont to Castle Rock and Boulder to the Denver-metro area, 7-days a week. The company is known for its community support and strong employee benefits programs.
Top Workplaces
This year's Top Workplace award takes note of the many ways Applewood recognizes the value of its employees and the communities where their customers reside.  Internally, the company coordinates a wellness program for employees that offers yoga clinics, exercise outings and healthy cooking classes. The annual "November to Remember" celebration gives thanks to employees with daily activities and recognition every day in the month. Other employee programs include a full benefits package, holiday celebrations and recruitment and referral bonus programs.
"Our family-like culture is one of the things that attracts top talent to our company," said Ward. All the technicians are licensed or certified in the plumbing, heating and electrical trades.
As a long-time community supporter, Applewood Plumbing has donated more than $150,000 through its Caring Community Giveaway to small, local nonprofits that have impacted programs for youth, seniors, veterans and even animals. As well, Applewood Plumbing partners with the Denver Dumb Friends League, Colorado Pet Pantry, SafeHouse Denver and other organizations doing good in our city. Applewood also proudly sponsors "feel good" and fun community events such as the Colorado Avalanche and the Hudson Gardens Concert Series.
In collaboration with St. Anthony's Hospital, Applewood provides accommodations to families tending to loved ones with traumatic injuries with the "Applewood House". This home is free-of-charge and available for extended periods. Through this program Applewood has helped provide families from across the U.S., including California, Arizona, New Mexico, Utah and more with worry-free housing during their recovery.
More than 1,000 companies participated in the Top Workplaces program, which surveyed company employees who rated their respective companies on management, connection, effectiveness, leadership, alignment and employee engagement.