January 21, 2021
6 Home Features That Cut Heating & Cooling Losses *Infographic*
Did you know that the average household pays over $2k a year on their home's energy bill and that approximately half of that cost goes toward heating and cooling? That's why it's important to do everything you can to make your home's heating and cooling systems work as efficiently as possible.
To help you save energy and money, the expert team at Applewood Plumbing, Heating and Electric has put together 6 home features that cut heating and cooling losses. Keep reading to optimize your home: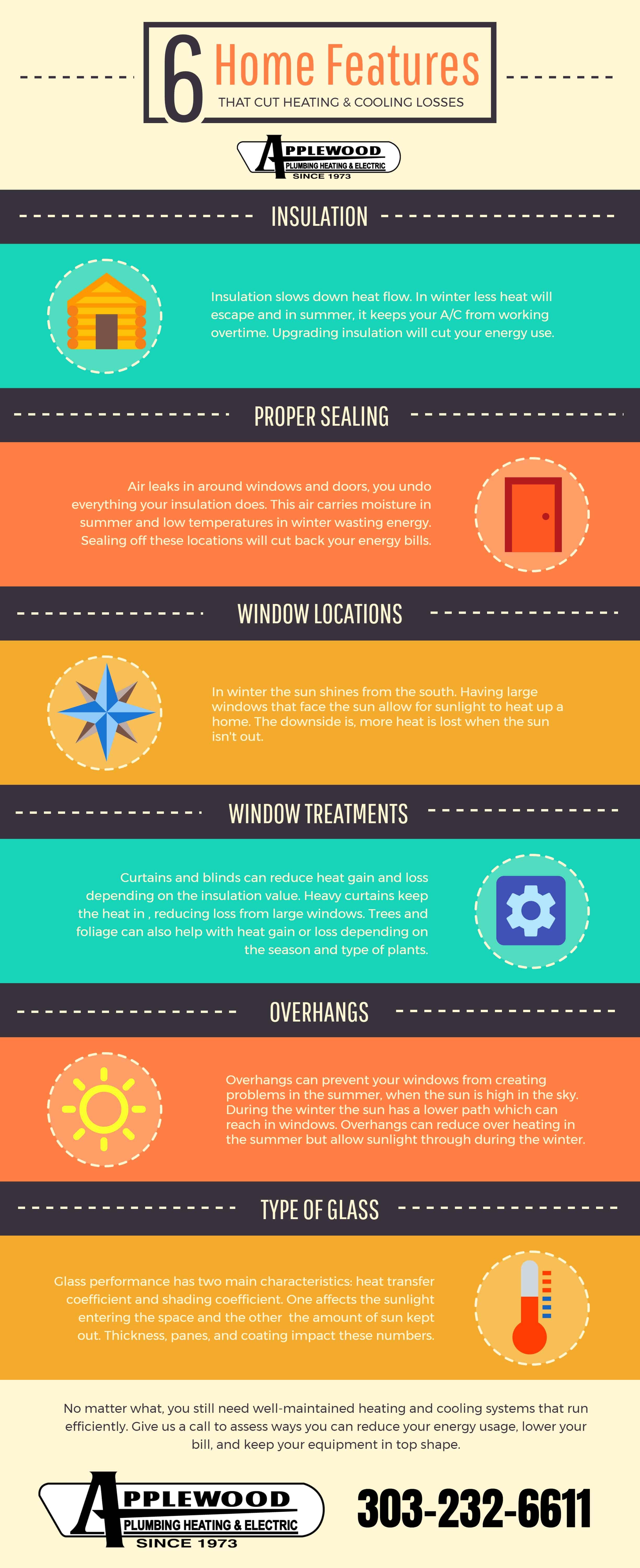 How do I improve my home's heating and cooling efficiency?
If you are trying to improve the efficiency of your home's heating and cooling systems, there are six things you need to focus on:
House insulation. Insulation slows down heat flow. This means that in the winter, less heat will escape and in the summer it keeps your AC from working overtime. Upgrade your insulation to cut energy use.
Proper sealing. Doors and windows leaking air can be a big waste of energy. The air that enters carries moisture in the summer and low temperatures in the winter, which wastes energy. Sealing up cracks or crevices around your windows and doors will reduce your energy bill. Using a door weather seal or a door bottom/door under seal can make a huge difference in your home's energy efficiency!
Window locations. In the winter the sun shines from the south. Having large windows that face the sun allows for sunlight to heat up the home.
Window treatments. Curtains and blinds can reduce heat gain and loss depending on the insulation value. Heavy curtains keep the heat in, reducing loss from large windows. Trees and foliage can also help with heat gain or loss depending on the season or type of plants.
Overhangs. Overhangs can reduce overheating in the summer while allowing sunlight through in the winter.
Type of glass. Glass performance has two main characteristics: heat transfer coefficient and shading coefficient. One affects the sunlight entering the space and one the amount of sun kept out. Thickness, panes, and coating impact these numbers.
Looking for more tips on how to reduce your home's energy consumption? Get in touch with Applewood today! Our expert team can make your home's heating and cooling systems as efficient and hardworking as possible. We look forward to hearing from you!