January 3, 2018
92-year-old WWII veteran gets gift of new bathroom
CARE Restoration & Cleaning and Applewood Plumbing Heating & Electric came together over the holidays to make one WWII veteran's day brighter and easier.
The two companies, who have had a long business relationship, donated a bathroom upgrade and cleaning services to David Bergan, a 92-year-old WWII veteran. The project, which was initially started by a relative who fell ill, became too large a task and required the expertise of skilled technicians.
"We help people all the time, but this time of year really emphasizes doing good things to help others," said Theo Pangilinan, president of CARE Restoration & Cleaning. "When we found out about this situation, we knew we had to do something to help these people out, so we called Applewood Plumbing Heating & Electric and together we were able to make it all possible."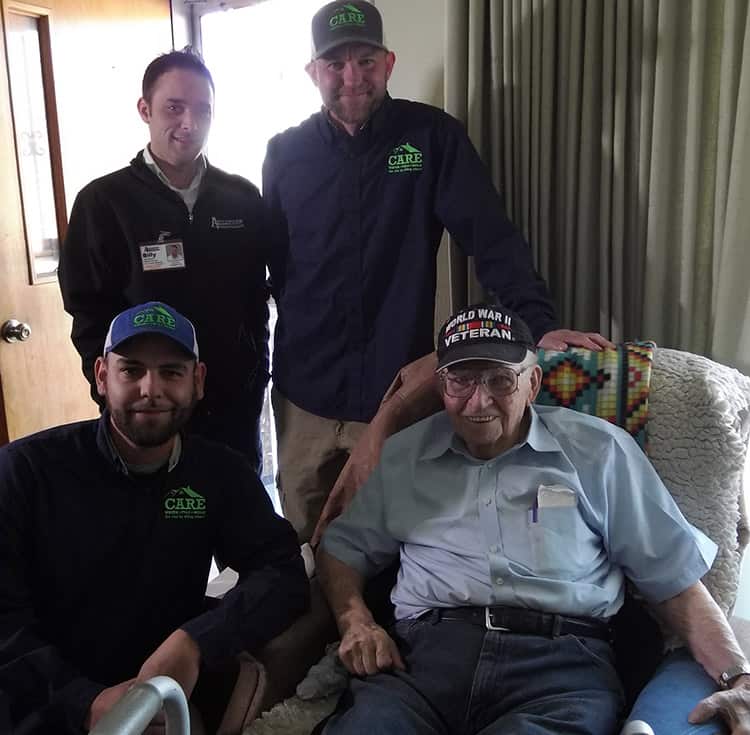 The bathroom had been left unfinished and unusable. CARE Restoration was able to prep the area by putting the enclosure back and clearing the area so Applewood's plumber could complete the plumbing part of the project. CARE Restoration finished out the project by cleaning the Bergan's carpets as well.
"We have great confidence in CARE Restoration and their work and were happy to become a part of this project," said John Ward, president of Applewood Plumbing Heating & Electric. "When you can work together to help others there is great satisfaction in these kinds of projects."
Applewood Plumbing's master plumber, Billy Wendel, who is also a military veteran, was dispatched to repair the bathroom.  After assessing the options, Wendel installed a bathtub lift, that reduces Bergan's risk of falling. A shower valve and hand-held shower head were installed to make bathing easy. In addition, Wendel removed shower doors that were no longer functional and installed a new shower curtain, which is lighter and easy for Bergan to operate himself.
"They came into a real mess," said Bergan.  "And they all did a heck of a job fixing it all up nice," he said after all the work was complete.
Applewood Plumbing and CARE Restoration both have strong community support programs. Applewood Plumbing Heating & Electric has donated more than $150,000 to small, local charities and annually donates projects like this to those in need as part of their efforts.
CARE Restoration makes monthly donations through its services and works closely with "There to Care" out of Boulder, a nonprofit that provides services to families facing medical trauma. CARE Restoration provides cleaning services to ensure families arrive home to a safe, clean environment.
To view the Denver 7 video news coverage on this, click here.