December 15, 2015
A Quick Guide to Safe Holiday Lighting
The holidays are filled with the magical glimmer of lights – inside and out – that put a shine on the season, our homes and our hearts. While decorative lights and other decorations add to the fun of the season, they can increase the risks of fire and electrical injuries if not used safely.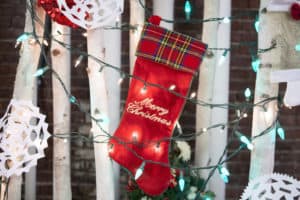 Using LED (light-emitting diode) lights, homeowners can now share the light of the season while saving money and energy. LEDs offer an alternative to the traditional incandescent bulbs. Some features of LED lights include:
Running LED holiday lights on one 6-foot tree for 12 hours per day for 40 days can save 90% or more energy when compared to traditional incandescent holiday lights.
LED holiday lights last longer; they have an operational life span of roughly 20,000 hours, enough to last for 40 holiday seasons
LED holiday lights are cooler than incandescent bulbs, reducing the risk of fire and personal injury
LED holiday lights are made in the same shapes and varieties as typical incandescent holiday lights, but LED holiday lights are more durable than incandescent bulbs, with the lamp shape typically made out of a solid plastic rather than glass
Because they use less power, it is safer to connect multiple strings of LED holiday lamps end-to-end without overloading electrical socket.
LED mini-lights utilize 1/10th the power of conventional incandescent mini-lights, thus 1,000 LED lights will use approximately .33 amps. This means you can install 363 strands of 100 LED mini-lights on a 15-amp circuit or 484 strands of 100 LED mini-lights on a 20-amp circuit.
Whether you hang the lights yourself or have a holiday lighting service do it for you, here are several important tips for a safe and trouble-free light display:
Always purchase electrical decorations and lights from reputable retailers.
Use lights approved for safe use by a nationally recognized testing laboratory.
Never connect more than three strands of incandescent lights together.
Consider purchasing LED lights, which use less energy and run cooler than traditional incandescent lights.
Before decorating, determine how many outlets are available and where they are located.  Plan your displays accordingly.
Carefully inspect each electrical decoration.  Cracked or damaged sockets, loose or bare wires, and loose connections may cause a serious shock or start a fire.
Follow the manufacturer's use and care instructions that accompany electrical decorations.
Use outdoor timers — ideally, digital with battery backup.
Avoid overloading electrical outlets with too many decorations or electrical devices. They can overheat and cause a fire.
Make sure that cords are not pinched in doors, windows, or under heavy furniture, which could damage the cord's insulation.
Do not mount or support light strings in a way that might damage the cord's insulation.
Always unplug electrical decorations before replacing bulbs or fuses.
Turn off all indoor and outdoor electrical decorations before leaving home or going to sleep.
Use only approved extension cords rated for outdoor use or indoor use.
Safe holidays begin with planning. For an assessment of your home and its electrical capacity, contact Applewood Plumbing Heating & Electric this holiday season. We hope you have a safe and bright holiday season