September 5, 2014
Applewood Awards August Giveaway to "Win The Battle"
Applewood Plumbing Heating & Electric announced August's $1,000 Caring Community Giveaway recipient is Win The Battle Foundation, a local organization helping children and families fighting youth cancer.
Win The Battle began in 2006 in honor of Mark and Sarah Jurney's son, Nate, who was diagnosed with osteosarcoma.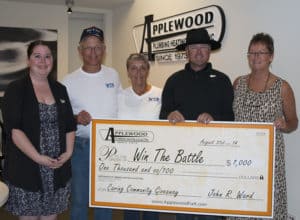 "It's rare to meet a person whose life hasn't been affected by cancer in some way. It's special for Applewood to help an organization that does so much for these families in our community," said John Ward, president of Applewood Plumbing Heating & Electric.
To keep spirits raised, the Jurneys used "Win The Battle!" as a positive mantra for their son. After Nate lost his fight against cancer in 2010 at the age of 20, the Jurneys founded the Win The Battle Foundation to provide others with emotional and financial support to beat childhood cancer.
"We just want to help in any way – families can take a trip, buy games for hospital visits or even pay medical bills," said Mark Jurney, founder.
The American Cancer Society estimates more than 15,000 new cases of childhood cancer will occur in 2014 alone. These cases will all affect children under 20 years old.
Win The Battle bestows "Do What Makes Your Feel Good" gifts to cancer patients, provides grants for care and  funds a scholarship program as part of their community support for patients and families of childhood cancer. The Applewood funds will help assist Win The Battle continue their program services and  fundraising efforts.
Applewood Plumbing Heating & Electric has served the Denver/Boulder Metro area for 40 years and is proud to have been named to the Denver Post's Lists of Top Workplaces for the third year in a row and the Editor's Choice for Best Customer Service in 5280 Magazine's Top of the Town issue. They are honored to be a past winner of the Better Business Bureau's Torch Award for Marketplace Trust in the Large Business category; and a recipient of the City of Golden Rotary Ethics in Business Award.
For more information or to nominate a local nonprofit for the "Caring Community Giveaway," call (303) 232-6611 or go to www.ApplewoodFixIt.com