August 20, 2014
Applewood Helps Veterans with Community Efforts
Denver, Colo. – The 1071 Chapter of Vietnam Veterans of America (VVA) is the July winner of the $1,000, Caring Community Giveaway presented each month by Applewood Plumbing Heating & Electric."Often at times veterans are overlooked or taken for granted," said John Ward, president of Applewood Plumbing Heating & Electric. "We are very happy we are able to give back to those who fought for our country."
There are right at 100 members in the local chapter, which works closely with veterans of Vietnam and their families. The organization's mission is to assist veterans who are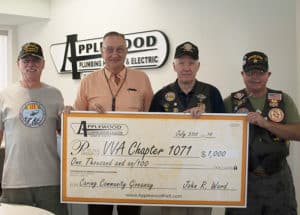 disabled and ensure that they have support for education and physical well-being. There are more than 400 Vietnam veterans in VVA chapters in Colorado.
"Just about anyone that was 'in country' was sprayed with Agent Orange," said Richard Cox, Chapter #1071 president. "We try to be sure our veterans are getting what they need from the VA (Veterans Administration) system in any way we can."
That means the members work to provide rent assistance, access to healthcare, covering unexpected bills and providing advocacy to state and federal lawmakers on the impact of Agent Orange.
"We assisted one vet struggling with cancer from Agent Orange to have his home modified," he said.  In another instance, a vet who had suffered damage to his wheelchair in an accident was able to get it fixed and "we were able to put him back into a safe, secure place," Cox said.
Funds from the Caring Community Giveaway will help Chapter #1071 continue veteran outreach and provide necessary support when veterans need it most.  To learn more about VVA Chapter 1071, visit: http://www.vva1071.org/