February 1, 2016
Applewood Awards December Giveaway to A3
Applewood Plumbing Heating & Electric awards the December $1,000 Caring Community Giveaway to A3. A3 is a non-profit dedicated to personalized education, training and support for individuals impacted by vision loss to help them adapt, adjust and achieve maximum independence.  Over 20.6 million Americans currently live with vision loss.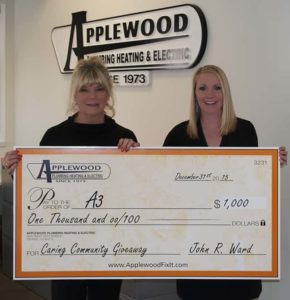 "Applewood is thankful to help an organization that provides so much help to those impacted by vision loss," said John Ward, Applewood Plumbing Heating & Electric president.
Founded in 1978, A3 provides aid and support to the visually impaired and blind in Colorado. "We worked with over 500 clients last year for direct services in the home," said Barbara Boyer, A3 Executive Director. "We help our clients adapt to their new situation and adjust to a new way of doing things," said Barbara.
The goal of A3 is to improve the lives of those impacted by vision loss by providing personalized in home services including home assessments and ongoing regular home visits, adaptive aids such as talking watches, monthly support groups, community education and orientation and mobility training which provides the necessary support for independence.
"The money donated by Applewood will be allocated to our Adaptive Aids for our Sight for Seniors program. The money will help provide small aids and devices at no charge to our clients," said Barbara.
Over the past ten years, Applewood has given more than $100,000 in giveaways to charities and nonprofits in the Denver area.