November 17, 2014
Applewood Awards Giveaway to Castle Rock Senior Activity Center
Applewood Plumbing Heating & Electric (www.ApplewoodFixIt.com) awarded this month's $1,000 Caring Community Giveaway to Castle Rock Senior Center, an activity center for senior citizens in Douglas County.
"Applewood is proud to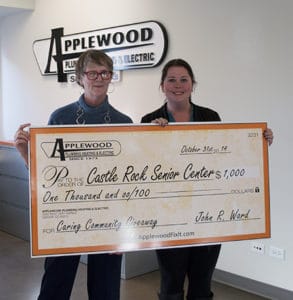 assist an organization like Castle Rock Senior Center, who is so dedicated to bringing smiles to our local senior citizens," said John Ward, president of Applewood Plumbing Heating & Electric.
Castle Rock Senior Center (CRSC) provides a wide range of daily activities to members, including table games, tennis, bowling, softball, golf, hiking, knitting and creative writing. CRSC also offers special groups such as book and garden clubs.
Along with activities, CRSC is also the largest provider of transportation in Douglas County. With a membership of more than 890 seniors and an estimated 500 visitors each day, CRSC offers transportation to and from the center if needed.
"Smiling is the most important thing I can do here," said Kate Williams, executive director of CRSC. "It's great to offer them friends and things to do."
CRSC has four official staff members and is run primarily through volunteers, with more than 200 locals dedicating their time to the center. These volunteers drive members, arrange activities and provide supplies.
With the help of Applewood and the Caring Community Giveaway funds, CRSC will be able to provide softball team t-shirts and nets for the pickle ball teams.