October 20, 2014
Applewood Awards Giveaway to Local Clinic
Applewood Plumbing Heating & Electric has chosen Clinica Colorado, a local nonprofit, as the September winner of the $1,000 Caring Community Giveaway.
"Applewood feels fortunate to help an organization directly affecting the health and wellbeing of our local community," said John Ward, president of Applewood Plumbing Heating & Electric.
Clinica Colorado, located in Westminster, Colo., provides affordable medical care to those without health insurance or otherwise unable to obtain standard medical services. The clinic was founded by Dr. Jim Williams in 2011 to become the medical home for many of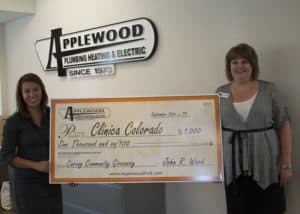 the 550,000 uninsured metro-area people.
Dr. Williams has practiced family medicine in the Denver Metro area for 20 years. In 2007 he began volunteering for another Denver clinic, Clinica Tepeyac, and later left to found Clinica Colorado.
Services provided by Clinica Colorado include cancer screenings, regular adult checkups, dental referrals, prenatal care, mammograms and colonoscopies. The clinic has also
partnered with St. Joseph's hospital to offer pregnant women a midwife program.
"We're a safety net clinic," said Jill Schneider, executive director. "We give care to those who need it most."
The clinic primarily serves Adams County where approximately 18 percent of the population is uninsured. To best meet the needs of their patients, Clinica Colorado also provides a bilingual staff, as more than 70 percent of their patients speak only Spanish.
Clinica Colorado's full-time staff includes Dr. Jim Williams, five medical care-givers, three medical assistants and physician assistant Suzanna Little, along with a board of directors and executive director Schneider.
Clinica Colorado hopes to provide more mammogram services to women at a reduced cost with the $1,000 award. These services will help teach the importance of preventive screening and provide services to women who need them.
Applewood's giveaway will help Clinica Colorado continue to provide medical services to those throughout Denver who need them.
Applewood Plumbing Heating & Electric has served the Denver/Boulder Metro area for 40 years and is proud to have been named to the Denver Post's Lists of Top Workplaces for the third year in a row and the Editor's Choice for Best Customer Service in 5280 Magazine's Top of the Town issue. They are honored to be a past winner of the Better Business Bureau's Torch Award for Marketplace Trust in the Large Business category; and a recipient of the City of Golden Rotary Ethics in Business Award.