June 18, 2014
Applewood Awards Local Education Foundation Caring Community Giveaway
Applewood Plumbing Heating & Electric has awarded Lakewood's D'Evelyn Education Foundation May's Caring Community Giveaway, winning $1,000 toward their foundation's overall mission.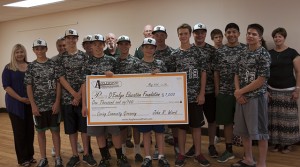 With the money won through the Caring Community Giveaway, the D'Evelyn Education Foundation will purchase new baseball uniforms and replace a vandalized school flagpole.
"I think it's great we can help support programs that do so much for local students. These teams and clubs keep students involved in the school and can also be a way for them to get to college," said John Ward, the president of Applewood Plumbing Heating & Electric.
The Foundation also hopes to set up a baseball scholarship program in the future, providing students the chance to play baseball who would otherwise not be able to do so.
"The Foundation believes in the equal funding of all clubs and athletics. We want to show that all students will get support from parents and the community, not just one group," said Beth Burnett, the secretary of D'Evelyn Education Foundation's Baseball Club Board.
Because 100 percent of all money raised is donated to programs supported by the Foundation, $1000 can go a long way toward the maintenance and advancement of these extracurricular programs, according to Burnett.
The organization receives support from many D'Evelyn High School faculty members and parents, assisting in fundraising, planning and community involvement.
Established in 2004, the D'Evelyn Education Foundation is a nonprofit organization dedicated to providing equal funding across many extracurricular high school activities, including: athletic, academic, scholarship and performing arts groups. The foundation supports these programs within grades 7-12.