July 17, 2014
Joseph's Journey Wins Caring Community Giveaway
Joseph's Journey, a nonprofit organization, who provides outdoor adventures for children who have terminal or life threatening illnesses, is the June winner of the $1,000 Caring Community Giveaway from Denver's Applewood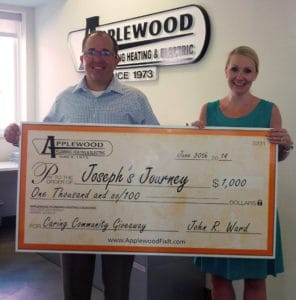 Plumbing Heating & Electric.
"Whenever we have an organization that helps our community's youth, we are overjoyed," said John Ward, Applewood Plumbing Heating & Electric president. "As a family-oriented business, we value supporting families who are struggling with greater challenges."
Beginning in 2000, Joseph's Journey has helped many children who are ill feel like a child again, even if for one day. Besides their annual fishing derby that provides children with an opportunity to be outdoors, learn about different types of fish and how to cast a line, they also provide journeys for children outside of Colorado. In the fall they are taking a seventeen-year-old battling Rhabdomyosarcoma on a moose hunt in British Columbia, Canada.
The money from the Caring Community Giveaway will provide more unique and individual journeys that give extra attention to outdoor adventures, making them even more special.
"Anything the children want to do, we do our best to make it happen," said Vickie Steuart, co-founder of Joseph's Journey. "Some of our one-on-one journeys are jet ski trips, camping adventures and we even take some children hunting."
Within the next year, Joseph's Journey wishes to increase awareness of their organization and the children they help. Applewood's gift is a generous place to begin that journey.