February 10, 2020
What is Applewood's Customer Code of Ethics?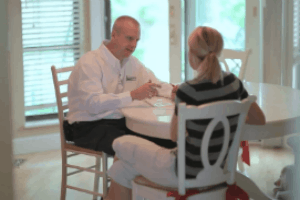 When we explain why Applewood's customers keep choosing us, we always bring up our Code of Ethics. Our Code represents what we feel we're ethically obligated to provide our customers, our employees, and our community. By recommitting to these obligations every day, we remind ourselves of what we stand for and what kind of company we want to be.
But what are those obligations, anyway? What does it mean that we "recommit" to our Code of Ethics on the job? How, exactly, do these obligations translate to excellent customer service and quality work? To answer these questions, we're reviewing our Code of Ethics in a little more detail. And since we believe in putting the customer first (get it?), we'll start with that part of the Code, too. The first part of our Code is dedicated to our ethical obligations to customers. This is what we owe you:
The Customer Code of Ethics
When you hire Applewood for any plumbing, heating, cooling or electrical service, we WILL:
SERVE our customers with integrity, competence and objectivity
Each of these three words is important to us. Serving with "integrity" means being as honest and forthright with our customers as possible. We'll tell you what's really happening and the best way to fix it. Serving with "competence" means ensuring we have the tools, experience, and know-how to actually make those fixes correctly. And serving with "objectivity" means we do what's best for you, not us. We will honestly tell you the best and most cost-effective way we can help. We want to solve your problem, not make a sale.
‌
DELIVER our customers more than we promised through value-added services
Don't worry, this doesn't mean we're going to upsell you anything. In fact, it often means just the opposite: when we perform services, we look for ways to make sure we don't need to come back. That means conducting repairs, maintenance, or cleaning that lasts. When you choose Applewood, you shouldn't have to worry about the problem we solve for a long time.
‌
PERFORM our work to meet technical codes or better
Applewood's technicians are experts. We will figure out which technical codes your home must fulfill and ensure that our work fulfills them. Not only are you getting fixtures that work well by your standard, but they'll also work well from legal standards.
‌
EXPLORE each customer situation in sufficient detail and gather sufficient facts to gain an understanding of the problem, the scope of assistance needed and the possible benefits our service and technical recommendations may provide our customers
This goes hand-in-hand with our "value-added services." Applewood strives to do more than solve an immediate problem. We'll also figure out what caused the problem in the first place, why, and how we can help make sure it doesn't happen again. We'll share everything we find with you, along with our best objective assessment of what you should do about it. This will help us deliver work that really lasts.
‍
RESPECT each customer's home and property and leave them as clean as we found them
Perhaps most importantly, we'll remember that you're inviting us into your home. No matter how dirty the job we have to perform or what we have to take out, rearrange, or dismantle to do it, we always do all the cleaning, picking up, and sanitizing required to make your home as clean as it was when we arrived. Believe it or not, despite the nature of the job, you'll find that Applewood plumbers are actually great at cleaning.
By recommitting to each of the promises we make in our Applewood Customer Code of Ethics every time we answer a call we remind ourselves of our goals and what it takes to achieve them. We don't leave a call until our customer is satisfied that we've fulfilled our goals to their highest expectations. These goals help us define–and exceed–those expectations.
If you want to see Applewood fulfill these promises yourself, contact us for service right away! If these values seem like the kind you could see yourself striving toward too, we're always looking for talent to add to our team. At Applewood, we believe working toward being the best company we can be is the best thing we can do for everyone–ourselves, our employees, and our customers included. The Code of Ethics is how we do that, every day and on every call.