September 27, 2023
What is Applewood's Customer Code of Ethics?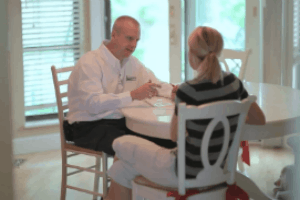 When we explain why our customers continue to choose Applewood, we always bring up our Code of Ethics. Our Code represents the values, behaviors and services we feel we're ethically obligated to provide our customers, our employees and our community. By recommitting to these obligations every day, we remind ourselves of what we stand for and what kind of company we want to be.
But, what are those obligations and how do they translate to excellent customer service and quality work? To answer these questions, let's review our customer code of ethics in greater detail.
Applewood's Customer Code of Ethics
When you hire Applewood for any plumbing, heating, cooling or electrical service, you can be assured that:
1. We SERVE our customers with integrity, competence and objectivity.
Each of these three words is important to us. Serving with "integrity" means being as honest and transparent as possible. We'll tell you what your repair issue is and the best way to fix it. Serving with "competence" means ensuring we have the tools, experience and know-how to make those repairs correctly. Serving with "objectivity" means we do what's best for you, not us. We will be honest and tell you the best and most cost-effective way we can help. We want to solve your problem, not make a sale.
2. We DELIVER more to our customers than we promised through value-added services.
Don't worry, this doesn't mean we're going to upsell you anything. In fact, it means just the opposite. When we perform services, we look for ways to make sure we don't need to come back. That means conducting repairs, maintenance or cleaning that lasts. When you choose Applewood, you shouldn't have to worry about related problems for a long time.
‌
3. We PERFORM our work to meet technical codes or better.
Applewood's technicians are licensed experts. We'll ensure that the work we perform in your home fulfills all relevant technical codes. Not only will you get fixtures that work well by your standard, but they'll also work well by legal standards.
‌
4. We EXPLORE each customer's situation and gather sufficient facts to diagnose the problem. 
This goes hand-in-hand with our "value-added services." Applewood strives to do more than solve an immediate problem. We'll also figure out what caused the problem and how we can make sure it doesn't happen again. We'll share our findings with you and offer our best objective assessment of what you should do about it.
‍
5. We RESPECT each customer's home and property and leave them as clean as we found them.
Perhaps most importantly, we'll remember that you're inviting us into your home. No matter how dirty the job we have to perform or what we have to take out, rearrange or dismantle to do it, we always do all the cleaning, picking up and sanitizing required to make your home as clean as it was when we arrived. Believe it or not, despite the nature of the job, you'll find that Applewood plumbers are actually great at cleaning.
Colorado's Ethical Home Services Provider
By recommitting to the promises we make in Applewood's customer code of ethics with every service call, we provide the finest quality work available in the Denver and Boulder metro. We don't leave a call until our customer is satisfied that we've completed work to their highest expectations. These goals help us define–and exceed–those expectations.
We'd Love to Earn Your Repeat Business
To see Applewood fulfill these promises yourself, contact us for service right away! If you're a plumber, electrician or HVAC technician looking for a career with an employer who values you, we're always looking for talent to add to our team. At Applewood, we believe being the best company means constantly improving for everyone–ourselves, our employees and our customers. Our code of ethics is how we do that, every day and on every call.