May 20, 2014
Applewood Helps Teen Moms Complete High School
Each month, Applewood Plumbing Heating & Electric selects a local nonprofit to receive $1000 as part of its Caring Community Giveaway. Florence Crittenton Service is May's winner, an organization dedicated to educating, preparing and empowering teen mothers. The funds will assist in the funding of its Early Learning Center and parental training programs.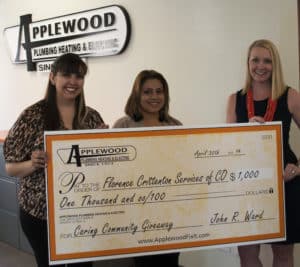 "We take great joy in helping our community; and I am inspired by this organization's dedication to empowering young members of our community," said John Ward, Applewood Plumbing Heating & Electric president. "We're always proud when we get the chance to recognize these types of programs."
"We use a comprehensive, wrap around approach that has been successful in preparing young women to be better mothers and productive members of the community," said Lauren Archuletta, Marketing coordinator for Florence Crittenton Services.
Florence Crittenton High School is the base of the organization, but extends beyond your average high school. All students at this school are teenage mothers and the curriculum is designed accordingly; offering career guidance, parenting training and early childhood education on top of a regular academic program.
The Early Learning Center is one of the many programs offered within the school. The center is an on-site child care and early development program. Mothers enrolled in the Florence Crittenton School with children ages six weeks to three-years-old can take advantage of this program while attending class. The high school currently has an 80 percent graduation rate.
"We are extremely grateful for this gift, it will truly help us continue in serving our community's young mothers," Archuletta said.