August 25, 2015
Applewood Helps Veterans With Community Efforts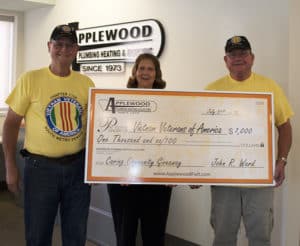 The 1106 Chapter of Vietnam Veterans of America (VVA) is the winner of the $1,000, Caring Community Giveaway presented each month by Applewood Plumbing Heating & Electric.
"We are very happy we are able to give back to those who fought for our country." Said John Ward, president of Applewood Plumbing Heating & Electric.
Chapter 1106 is a member of the Vietnam Veterans of America chartered by Congress in 1978. The Chapter 1106 received it's "charter" from National Headquarters in February 2015. The 1106 Chapter of Vietnam Veterans of America is one of over 620 chapters in the United States.
There are right at 43 members in the local chapter, which works closely with veterans of Vietnam and their families. The organization's mission is to assist veterans in need of support. They provide information on Agent Orange, PTSD, and VA (Veterans Administration) benefits and assist with local veteran community events and projects. "We try to be sure our veterans are getting what they need from the VA system in any way we can," said Lee White, Chapter #1106 president.
Chapter 1106 also gives presentations to middle schools and high school to educate today's youth about the Vietnam War. "The VVA's goals are to promote and support the full range of issues important to Vietnam veterans, to create a new identity for this generation of veterans, and to change public perception of Vietnam veterans."
Funds from the Caring Community Giveaway will help Chapter 1106 continue veteran outreach and provide necessary support when veterans need it most. To learn more about VVA Chapter 1106, visit: www.vva1106.org
For more information or to nominate a local nonprofit for the "Caring Community Giveaway," call (303) 232-6611 or click here to nominate your favorite local charity.