March 14, 2017
Applewood Plumbing Awards Red Rocks Scholarships
Applewood Plumbing Heating & Electric is proud to have partnered with the Red Rocks Community College Foundation in offering two $1,000 scholarships to students attending RRCC this semester.
Applewood Plumbing will increase these scholarship opportunities to three in the 2017-18 school year, with one each in the Plumbing, HVAC and Eelectrical trades.  Each scholarship will be for $1,000. The deadline to apply is April 7, 2017.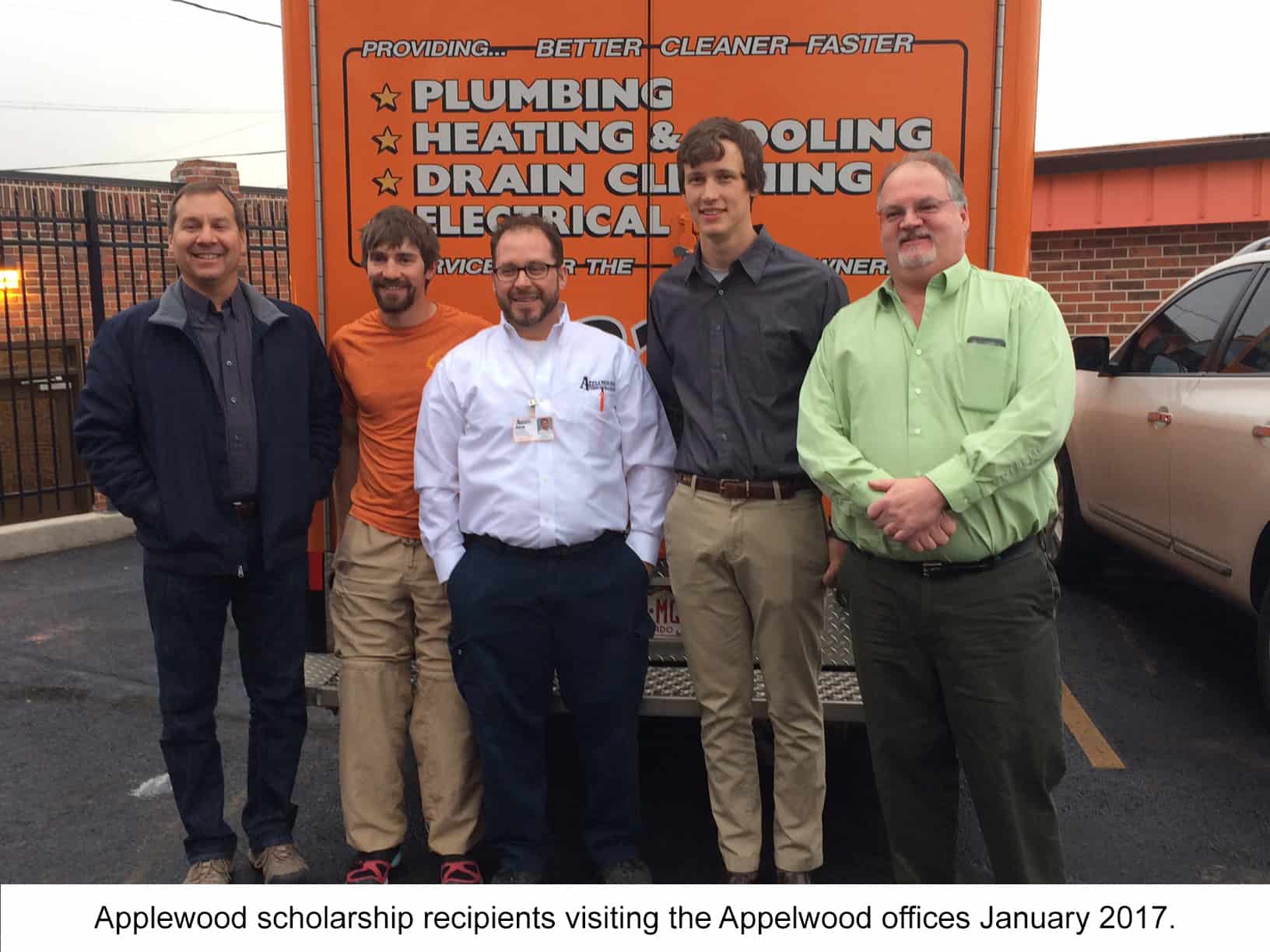 "Trades are a worthwhile, lucrative and essential career path and in partnering with Red Rocks Community College for these scholarships we want to recognize students for the contributions they will make to our industry and encourage them to reach their full potential," said John Ward, a master plumber and president of Applewood Plumbing Heating & Electric.
The 2017 recipients attended an orientation at Applewood in which they learned about the company, viewed the facility and equipment, and explored fully-stocked trucks. Master Electrician Jon Williams met with the future tradesmen to talk about his experience working for Applewood and shared the wisdom he has gained in his nearly 30 years in the trade. John and Josh Ward, owners of the company, met with the recipients for a facility tour answering questions about the business and industry.
Ward has been a long-time supporter of the trades and helped develop the program at Red Rocks Community College in the 1970s, where he taught plumbing courses and was head of the Plumbing Department at the school.  With decreasing numbers entering the trades as a chosen profession in recent years, Ward saw the scholarships as an opportunity to encourage  growth in the industry.
Applewood is always seeking professional, customer-focused service people to help serve their large and rapidly expanding customer base. The company aims to help individuals learn, grow, and succeed in the industry with the best training, tools and support. Applewood has been named a Denver Post Top Workplace four times, a designation earned by ratings from Applewood employees. They've also been named Plumbing & Mechanical Magazine's Best Contractor to Work For and Contractor Magazine's Contractor of the Year. For information about working for Applewood or for information on how to apply for an Applewood Scholarship at Red Rocks Community College, call 303-328-3095