March 27, 2017
Applewood Plumbing awards $1,000 giveaway to Art as Action
Art as Action is the winner of the $1,000 Caring Community Giveaway from Applewood Plumbing Heating & Electric.
Art as Action (AaA) is a collective of Artivists, which AaA defines as champions and ambassadors of the communal, universal, healing language of art. Since its inception, the organization has served as a creative springboard and artistic cooperative for numerous individuals and organizations in the Colorado arts community. With a 15-year history of nurturing artists and inspiring community engagement in the arts in Denver, Boulder, and surrounding areas, AaA has successfully produced 14 performances that showcase a diverse and meaningful selection of voices and genres from artists throughout the area.
In 2011, Art as Action expanded its work in the community with the launch of its "Reconnect with your Body" (Reconnect) program, which offers weekly dance classes for people with and without Parkinson's disease (PD). This program has become a cornerstone of AaA's mission, which is about making art accessible to anyBODY, from a performer working to break down artistic boundaries through new forms of expression, to a Reconnect participant working to overcome physical limitations through dance. In recent years, Reconnect participants have stepped onstage for AaA's annual show, an opportunity many would never have considered before this class helped to build their confidence and uncovered their inner performer.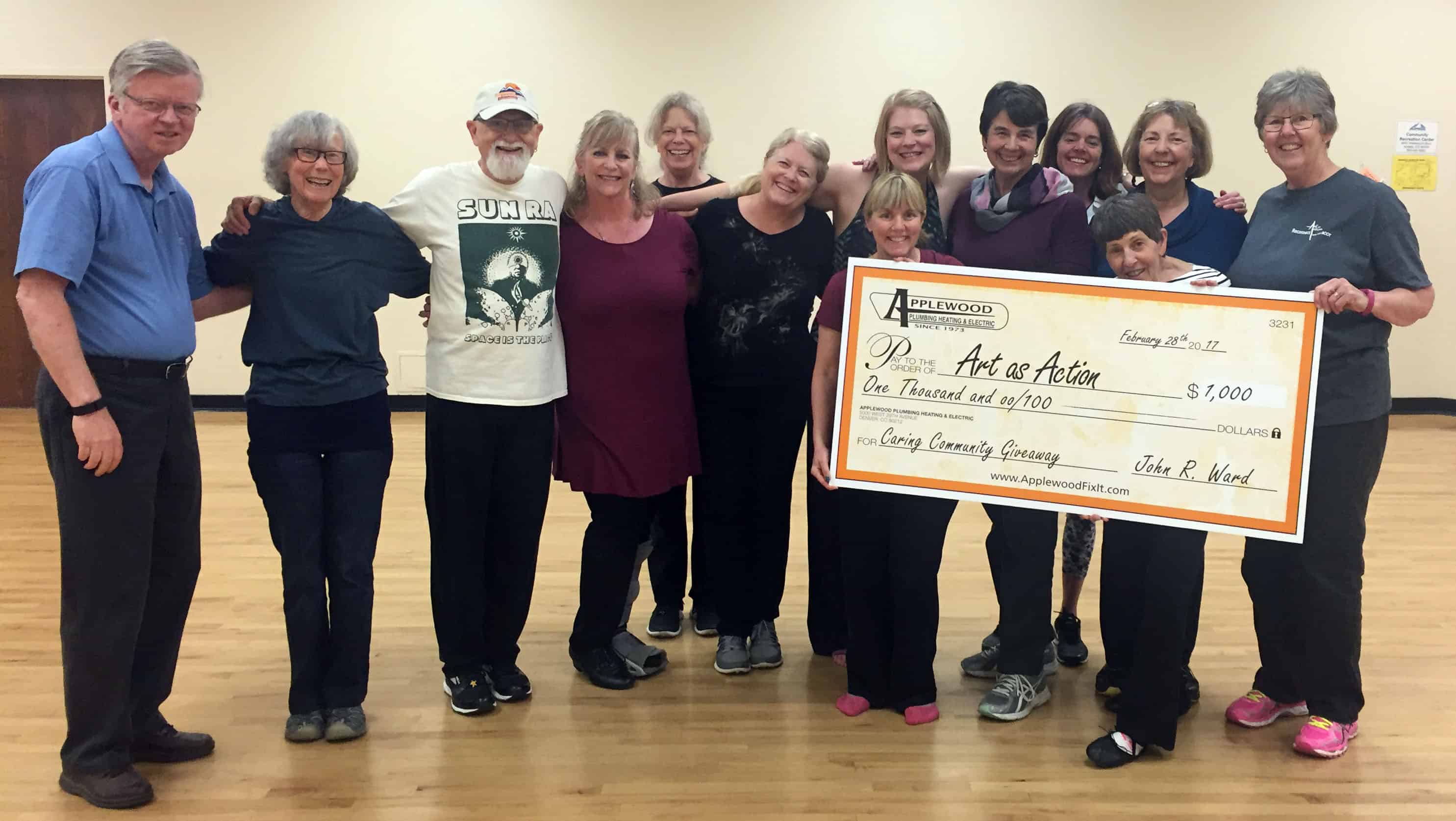 "We recognize the importance of the arts and are thrilled to help support those with this passion," said John Ward, president of Applewood Plumbing Heating & Electric.
AaA continues to work as a collective, each year inviting artists from varying backgrounds, levels of ability and genres onto one stage for a collaboratively curated full-length show revolving around a common theme. By providing an inclusive arena for a wide range of participants, AaA brings opportunities for any and every performer and offers the community an opportunity to experience humanity through art.  As a result, hundreds of performers and audience members have lived the AaA mission through their involvement with the organization. In fact, Artivism has proven infectious: many of AaA's performers, volunteers, and board members were once audience members who were so inspired by the performances, they had to join the movement.
"This generous donation will support our growing Reconnect Outreach program which brings the power of dance and creativity into the Parkinson's community through support group demonstrations, conference presentations and performances and online content," said Sarah Leversee, Artistic Director, Art as Action. "We are thrilled to be the recipient of this giveaway just in time to celebrate our 15th anniversary."
Applewood Plumbing Heating & Electric has served the Denver/Boulder Metro area for more than 40 years and is proud to have been named to the Denver Post's Lists of Top Workplaces and the Editor's Choice for Best Customer Service in 5280 Magazine's Top of the Town issue. They are honored to be a past winner of the Better Business Bureau's Torch Award for Marketplace Trust in the Large Business category and a recipient of the City of Golden Rotary Ethics in Business Award.
For more information about Art as Action, go to www.artasaction.org.