June 26, 2018
Applewood Plumbing Heating & Electric Awards $1,000 to Re:Vision
Non-Profit Organization Works to Alleviate Food Deserts in Southwest Denver Receives Corporate Support for their Summer Campaign
Applewood Plumbing Heating & Electric awarded $1,000 as part of their monthly Caring Community Giveaway to Re:Vision, a local non-profit based in Denver's Westwood neighborhood.
Re:Vision started in 2007 with a mission to rethink community development. Since then, with the help of its residents, Re:Vision has transformed the community by growing food systems,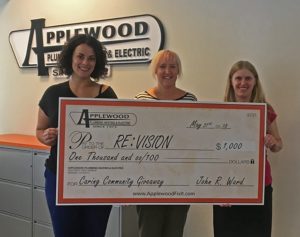 developing local leaders, and building a locally-owned economy.
Westwood is one of the most culturally vibrant neighborhoods in the Denver Metro Area, with over 81% of its residents identifying as Latino. Known for its delicious tacos and pho, Westwood is actually a food desert, which means that most of the population has limited access to affordable healthy food.
Through Re:Vision's Re:Farm program, low-income families overcome the barriers  of living in a food desert by learning to grow their own food.  Residents are provided with a Promotora, a mentor who helps them through the gardening process, and resources such as seeds, plants, compost and irrigation systems to convert their yards into high production organic vegetable gardens. Since 2009, they have cultivated more than 1,700 cumulative gardens.
"Helping non-profits like Re:Vision is such an honor. To know there are people in our community helping others in such a positive way warms our hearts," said John Ward, Applewood Plumbing Heating & Electric president.
Applewood Plumbing Heating & Electric is a sponsor of Bowling for Re:Vision, an event to help raise funds for their programs and mark the end to their Summer Giving Campaign, which lasts June 11 – July 13. Re:Vision's goal for the Summer Giving Campaign is to raise $10,000, and to date, because of Applewood's support, they are a quarter of the way to their goal . The fundraising event will take place at AMF Bowling Lanes July 10th, 2018. For more information and to purchase tickets to the event, visit: https://www.eventbrite.com/e/bowling-for-revision-tickets-46782602022?aff=ehomecard
For more information about Re:Vision visit www.revision.coop.