January 24, 2013
Applewood Plumbing Supports Dogs in Need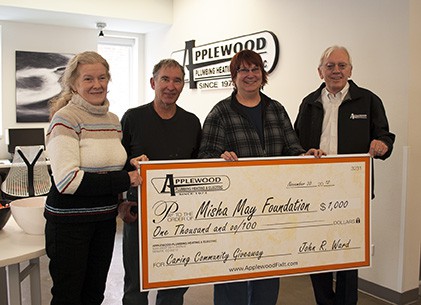 DENVER- Helping more than 2,500 dogs since 2001, the Misha May Foundation provides training and rehabilitation for homeless dogs until they find a permanent home. To thank them for their dedication, Applewood Plumbing Heating & Electric (www.ApplewoodFixIt.com) has named the Misha May Foundation the November $1,000 Caring Community Giveaway winner.
"A little compassion goes a long way and that's what struck a chord with us," said John Ward, Applewood Plumbing Heating & Electric president. "The Misha May Foundation is deserving of this award for their dedication to the community and mostly to animals that are in need."
The Misha May Foundation, the 2012 Denver A-List winner for best training, was created on the notion that there should be a society where abandonment, homelessness and euthanasia of dogs does not exist.
"We believe that each individual dog, regardless of breed or mix, age or issue, deserves the opportunity to find a forever home," said Lorraine May, executive director of the Misha May Foundation.
Using foster homes and donated space for classes, the Misha May Foundation offers dog behavioral sessions, animal communication and Reiki certification. Reiki is a class designed to teach students how to experience the world from an animal's perspective. "I've been doing Reiki for 15 years now and have seen tremendous success in students being able to relax and alleviate stress from their dogs; it supports the dog so they'll be able to increase their strength and heal faster," said May.
Lorraine May started the Misha May Foundation when she was given the opportunity to foster a black lab mix, named Misha, as the dog was on her way to a shelter. As a result, Misha remained May's inspiration and constant companion for more than 15 years. May is the lead trainer, along with Mary Hall and other dog trainers, also called apprentices.
"Just like Misha, these dogs make the best pets and they are often the ones who crave human companionship and would prosper on the daily affection and play in their own family," said May.
The Misha May Foundation offers a variety of classes ranging from dog behavior sessions to animal communication. For the New Year, free introduction classes are being offered in January.
Applewood Plumbing Heating & Electric has served the Denver/Boulder Metro area for nearly 40 years and are proud to have been named to the Denver Post's 2012 List of Top Workplaces. They are honored to be the 2009 winner of the Better Business Bureau's Torch Award for Marketplace Trust in the Large Business category; and a recipient of the City of Golden Rotary Ethics in Business Award.
For more information or to nominate a local nonprofit for the Caring Community Giveaway, call 720-249-5145 or go to www.ApplewoodFixIt.com.