January 25, 2013
Applewood Supports Autism at Crucial Time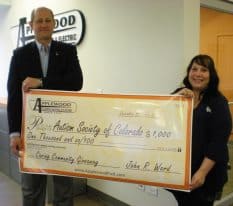 Currently, one in 85 children are diagnosed with autism in Colorado. This number of cases is higher than the national average and makes it even more important that the Autism Society of Colorado has been named the Applewood Plumbing Heating & Electric (www.ApplewoodFixIt.com) December $1,000 "Caring Community Giveaway" winner.
"We are thrilled to help make a difference in the lives of children and families affected by autism," said John Ward, Applewood Plumbing Heating & Electric president, "The Autism Society of Colorado has shown their dedication to the community and we hope they will continue their selfless work for years to come."
ASC's mission is to improve the lives of all affected by autism. Autism Spectrum Disorders are complex neurological disorders that affect individuals in the areas of social interaction and communication and are often accompanied by repetitive and or profoundly challenging behaviors.
"One of the biggest challenges for families is always access to care because of the expense. We are always looking for financial support so that we can provide even more outreach than we already do to ensure that every child with autism is cared for," said James Buckles, CEO of ASC.
One of the programs Buckles hopes to expand in the future is Autism 101: An Introduction to Understanding Autism, a program designed to educate employee bases, parents and community members on autism.
"Children with autism are being bullied in school because their peers are not educated and society is not always as accepting as they should be. We hope to improve this not only for the children but for their families," he said.
The donation will also contribute to the overall function of the organization and crucial programs, such as the call center and "Give Me a Break" program.
The call center provides resources and referrals to help families navigate through the care process needed for a child with autism. In 2012, ASC received 4,000 calls for services.
The Autism Society of Colorado has been awarded several awards for their outstanding service over the years, including the prestigious 2010 Denver Metro Chamber of Commerce Small Nonprofit of the Year Award.
Applewood Plumbing Heating & Electric has served the Denver/Boulder Metro area for nearly 40 years and are proud to have been named to the Denver Post's 2012 List of Top Workplaces.  They are honored to be the 2009 winner of the Better Business Bureau's Torch Award for Marketplace Trust in the Large Business category; and a recipient of the City of Golden Rotary Ethics in Business Award.