July 6, 2016
Applewood Plumbing Supports Kids First Health Care
Applewood Plumbing Heating & Electric chose Kids First Health Care as the May winner of the $1,000 Caring Community Giveaway.
Kids First Health Care strives to improve the health and well-being of infants, children and youth. Kids First is committed to "keeping kids healthy today and for all of their tomorrows."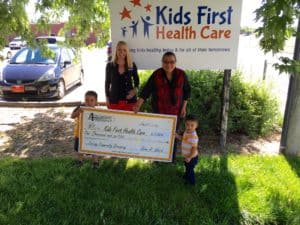 "We're always happy to help organizations like Kids First Health Care who are working so hard to keep the children in our community healthy," said John Ward, president of Applewood Plumbing Heating & Electric.
Kids First provides easily accessible, high quality health care in six pediatric health centers located in Commerce City and Westminster.  While most patients are Adams County residents, children from a distance, including Denver and Aurora, also come to Kids First for health care.  In August 2017, Kids First will open two new pediatric health centers for under-served and disadvantaged children in Thornton and Boulder.
School-based health centers bring the doctor's office to the schools so students avoid health-related absences and get the health care support required to succeed in the classroom. Evidence shows higher graduation rates in schools with school-based health centers.  Research has documented that school-based health centers impact educational success through improving health status, reducing absenteeism, decreasing discipline referrals, increasing parental involvement, and improving readiness to learn.
During the 2014-15 school year, Kids First Health Care provided 8,168 health care visits to 3,163 infants, children and youth; 4,378 immunizations were administered to 2,342 children and adolescents; 924 mental health counseling visits were provided; and 819 individuals were enrolled in Medicaid, CHP+, or the Kids First sliding fee scale. Kids First recoups only a portion of this cost through billing insurance, patient fees, and contributed income such as government agencies and foundations.
"Kids First is forever grateful to corporations like Applewood Plumbing Heating & Electric which provides much needed financial support,' said Norma Portnoy, Executive Director of Kids First Health Care. "The $1,000 from Applewood will providing funding for four practice inhalers, which enable our medical providers to train newly diagnosed asthmatic children how to effectively manage asthma."