July 13, 2016
Tips to Avoid Overheating in A/C Units
July is recognized as the hottest month of the year in Colorado, according to World Weather Forecasts. With average temperatures increasing to 88°F this month, heat related illnesses including heat exhaustion, heat cramps, and heat stroke, could be a potential outcome of these hot summer days.
While these heat related illnesses are influenced by multiple factors, the main cause is prolonged or intense exposure to hot temperatures.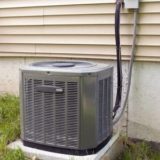 As there are a variety of ways to prevent heat related illnesses while still enjoying the warm weather, it is important to also understand that A/C units can experience heat related problems too.
When an A/C unit over heats it typically shuts off to cool down. However, if the unit does not shut down quick enough or fails to turn off completely the unit could experience costly damages.
To ensure coming home to a nice cool home, here are some helpful tips and tricks that Applewood recommends to keep you're A/C unit from over-heating:
Check your air filter once a month, if the filter becomes clogged with allergens, dust and dirt your unit will have to work harder
Keep your unit in the shade or in a cooler space, if possible
Keep lamps, televisions, and other heat-producing appliances away from the thermostat
Weatherize your house to prevent cool air from getting out and warm air getting in
Take advantage of ceiling fans as they help circulate the cool air
While these tips and tricks may prevent your A/C unit from overheating, Applewood recommends keeping up with regular maintenance. This includes checking the filters, coils, and condensate drains.
On a personal note, beat the heat and still have fun, check out these top ways Applewood recommends to stay cool this summer:
Kayaking or Canoeing at Clear Creek Whitewater Park in Golden
Riding the Cog Railroad up to the top of Pikes Peak in Colorado Springs
Grabbing a frozen treat at Little Man Ice Cream
Attending an evening concert at Red Rocks Amphitheater in Morris
Hike in Rifle Falls State Park to experience lush vegetation and waterfalls
Head to Blue Mesa Reservoir to experience a Colorado Beach
Enjoy water rides and wave pools at the Water World Amusement Park
Hopefully these Applewood tips will help you and your home beat the heat this summer.