May 2, 2015
Applewood Runs to The Furry Scurry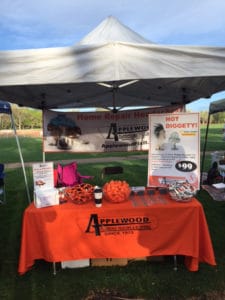 Lakewood, Colo. – Applewood Plumbing Heating & Electric will be participating in the 22nd Furry Scurry, presented by The Dumb Friends League, at Washington Park in Denver on Saturday, May 2 at 9 a.m.
"Applewood is a family-oriented company," said John Ward, president of Applewood. "We always strive to give back to our community and ensure families and animals are taken care of."
The fundraising event raises money and awareness for an estimated 20,000 homeless pets that are brought into shelters each year. Donations allow the League to provide medical care to the animals, behavioral training for adoption and investigations for animal cruelty. More than 10,000 participants are expected to attend and walk the two-mile course for animals.
The Applewood team will have a booth in the "Flea-less Market," where attendees will have a chance to win giveaways. As part of the Wellness Program at Applewood, employees and their pets will be walking the route, as well.
"This is the first time will be participating in the Furry Scurry event and we are very excited here at Applewood," said Ward. "Animals become pets and pets become family, so we are happy to help these animals find homes."