April 17, 2019
Applewood's electrical services endorsed by Team Dave Logan
Applewood Plumbing Heating & Electric has been with the Team Dave Logan group since its inception 10 years ago and now Team Dave Logan has named Applewood as their exclusively endorsed electrical services contractor.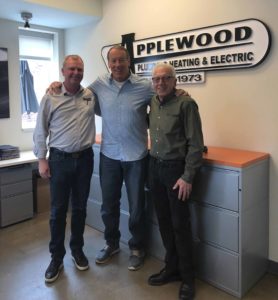 "We have had a long relationship with Dave Logan and are grateful for this opportunity to showcase the high level of electrical services we provide," said John Ward, Applewood Plumbing Heating & Electrical president. "we believe we have the best electricians, plumbers and HVAC technicians in the business and this platform will allow us to take the next step in assisting the residents of Denver."
For over a decade, Team Dave Logan has been connecting Colorado with pre-screened, integrity- backed companies you can count on. "Applewood has been part of Team Dave Logan for 10 years and I am proud to endorse them," said Dave Logan. "Family-owned and operated, they share Team Dave Logan values of providing quality, reliable and trusted pros to every job, every time."
Both establishments demonstrate limitless dedication in delivering astounding quality of work to their customers. Their relationship has assisted community members to easily access a trustworthy company to service their home repair needs.
As part of the exclusive partnership, Applewood will be offering special discounts and service opportunities including a $60 service coupon for Team Dave Logan customers.