March 23, 2022
Clothes To Kids Of Denver is This Quarter's Caring Community Giveaway Winner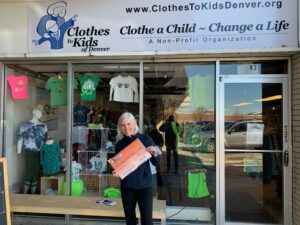 Clothes To Kids of Denver became this quarter's $5,000 winner of the Applewood Plumbing Heating & Electric quarterly Caring Community Giveaway. This time, the award focused on exceptional works within the community in support of children.
Employees of Applewood initially nominated local charities for the Giveaway. The public then voted and selected the winner after the list was narrowed to Clothes To Kids of Denver, Denver Children's Home and Food for Thought Denver.
Helping Children in Denver
"This quarter's award is extra special, as we can all embrace the need to help the children in our community," said Josh Ward, owner of Applewood.
Clothes To Kids is a boutique store in Denver serving low-income families facing crisis. Clothes To Kids' mission is to enhance the self-esteem and confidence of children in the community by providing clean, in style clothing. Clothes to Kids of Denver gives students the opportunity to shop, free-of-charge, in a welcoming and respectful environment.
"This money will allow us to purchase new shoes, underwear and socks. Being able to offer such quality items in our store-like setting not only improves our shoppers' lives, it gives them hope and human dignity," said Lisa Maloney, program director for Clothes To Kids of Denver.
Denver Children's Home and Food for Thought Denver were the two runner-up local charities in the Applewood giveaway. Each will receive a $500 donation from the company.
Watch for Applewood's Next Community Giveaway
Applewood's Caring Community Giveaway has donated to the community for more than 15 years. We've provided more than $220,000 to make a difference in the greater metro-Denver and Boulder area by supporting the efforts of small, local nonprofits. Watch for next quarter's giveaway!