March 1, 2022
Don't Get SHOCKED by Your Home's Electrical Needs
Buying an electric car, remodeling your kitchen or adding a hot tub? Talk to a licensed Electrician first!
Tax season is here, your return check is around the corner and home upgrades are in your sights. Maybe you're eyeing a new electric vehicle, a hot tub or that remodel you've been wanting. Whatever the case, don't forget to consider the cost associated with how to power those bright and shiny dreams until it's too late.
Without a review of your home's electrical system, these purchases can turn from exciting to overwhelming. Don't get caught off guard when you realize the unexpected costs associated with powering your splurges. Decades ago, the average home needed about 60 amps of electricity to cover all of its needs. Today, the average home requires around 150 to 200 amps.
How Applewood Plumbing Heating & Electric's licensed Electricians can help with your electrical costs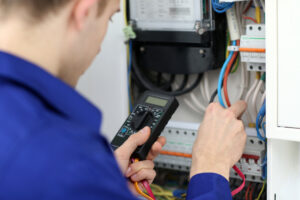 "The first thing to consider is the electrical panel," Brian Bach, a 27-year veteran Electrician, said without hesitation. "There is a power limit to what a fuse box can handle. If that panel isn't big or powerful enough, or there is no more room for additional fuses, the budget required for the project could come as a surprise to some homeowners."
In Colorado, sales for electric vehicles are up nearly 15% over last year. The International Council on Clean Transportation estimates that our residents will need approximately 437,000 home charging units for electric vehicles by 2030 to meet growing demand. Likewise, purchases of hot tubs, a common Top 10 "I Want" item, have doubled during the pandemic. Toss in a kitchen or basement remodel and you have even more electrical challenges to consider!
Solving Denver, Boulder and Longmont's Electricity Needs
Bach sees these dilemmas on a regular basis. "If you're adding a charging station for an electric vehicle, beginning a remodel, or looking to add in a hot tub and the power source is 200 feet away from where that power needs to be, how do you get that electricity from point A to point B?" These are the questions a licensed Applewood Electrician can determine in advance, so you don't get shocked by unexpected costs.
By getting an assessment of your home's electrical system ahead of major decisions, you can save time and added costs. Applewood Plumbing Heating & Electric has top professionals available to assist you with your electrical review and upgrade needs.
Upgrade Your Home's Electricity to Meet Your New Needs
If you're planning an upgrade that requires additional electrical power, schedule with one of our technicians today. We can assess your electrical panel, add new circuits and extend your wiring to accommodate whatever additions you're making. We want all your dreams to have the proper power behind them!