August 30, 2023
Considering a Career in the Trades?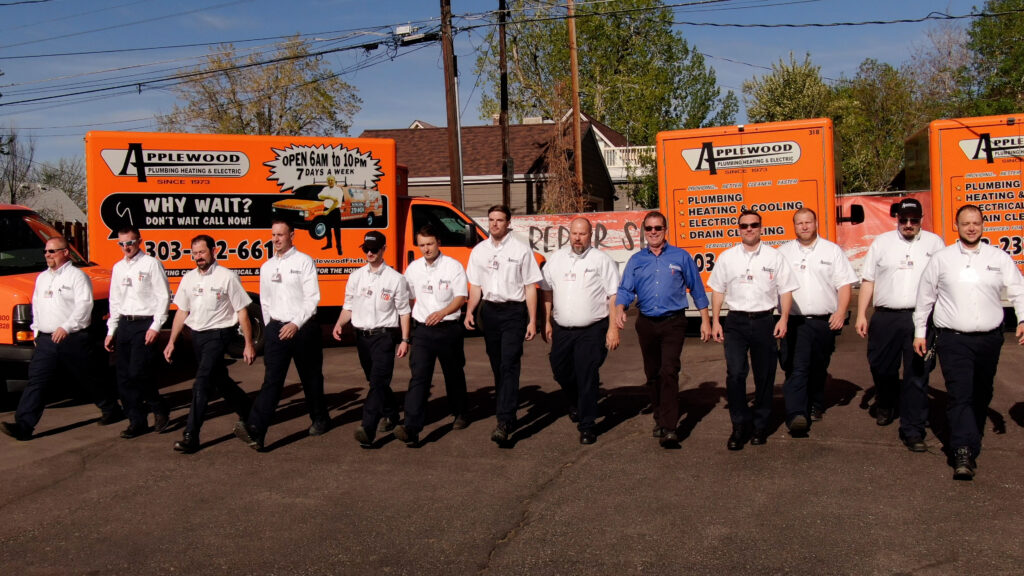 As Applewood Plumbing Heating & Electric reflects on their 50-year history, there are some standout moments.
From their start in a simple Volvo to a fleet of 100+ bright orange trucks, the company has held true to its local beginnings and a Code of Ethics that drives the family-owned culture.
Less than 30% of family businesses survive into the third generation of family ownership. Those that do, however, tend to perform well over time compared with their peers, according to McKinsey & Company research. And, with tried and true practices, a commitment to community and consistent growth, Applewood is poised to continue well into the future.
Within the home repair industry, Applewood is looked to as a mentor and example. The company has a 98% on-time service rating and a more than 60% repeat customer base, a testament to the quality of service provided. The company has invested in championing trade careers over the years by supporting apprenticeships and funding scholarships in plumbing, electrical and HVAC disciplines.
John Ward, founder, said years ago that "companies don't last long that don't have core values, ethical practices and take care of their employees." That foundation has been carried on through Josh Ward, the current president of Applewood.
It is the attention to their culture that has resulted in long-tenured employees and the attraction of top talent in plumbing, heating and HVAC. The company continues to grow and hire, even through economic downturns and the pandemic. Recent studies of high school students have shown an increase in consideration of trades as a career option. A little more than 40% seriously consider pursuing an education in the skilled trades, suggesting a shift in thinking among high school students, away from traditional 4-year colleges. Applewood supports this next generation of skilled-trade professionals and often visits high schools, hosts tours and serves on career panels to champion trade careers.
Applewood believes there are some important things to consider when looking to pursue a career in the trades.
Professional Growth – what kind of ongoing training is provided and do you have the resources to effectively perform at the highest level? Applewood takes this to heart with regular reviews of best practices, fully-equipped trucks and use of emerging technology.
Advancement – working in a culture and environment that affords advancement. Applewood believes in investing in their employees to ensure they continue to learn, hone skills and advance their careers into leadership roles.
Benefits – As a family-owned business, Applewood understands the importance of health and a work/life balance for their employees and families. Applewood has been recognized by the Denver Post Top Workplace Program for offering one of the best benefits packages available, in any industry, and by any workplace in Denver.
A strong apprenticeship program, ongoing training, advanced education opportunities and benefits that rival – and often supersede – any major corporation, have helped Applewood continue to be the largest, privately-owned home repair company in the Denver-metro area.