April 1, 2013
Denver's Applewood Plumbing Heating and Electric Offers Kids Chance to Succeed
Since the 1990s, the Colorado Hawks (Hard-At-Work-KidS), a nonprofit basketball program dedicated to creating an opportunity and an alternative to gangs for at-risk disadvantaged youth, has provided a year-round, culturally diverse, educational basketball program for boys and girls. Applewood Plumbing Heating & Electric has named the Colorado Hawks February's $1000 "Caring Community Giveaway" recipient.
Gang involvement continues to be problematic in the metro area with 14 percent of teens belonging to a gang and one-fourth of gang members being aged 15-17, according to teenhelp.com. Of the 14 percent of teens belonging to a gang, 89 percent are responsible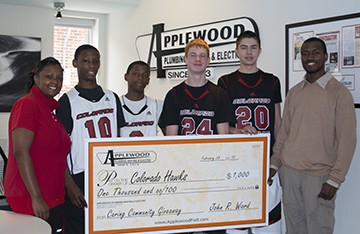 for violent crimes.
"The Colorado Hawks is an organization that constantly works to improve their program to provide more opportunities and alternatives for disadvantaged youth," said John Ward, Applewood Plumbing Heating & Electric president. "We recognized the dedication and passion behind the program and we hope they continue to serve the youth in the community for years to come."
The Hawks is a year-round competitive program that helps players make it to the varsity level in high school and potentially receive college scholarships. With year-round practice, Hawks' players are able to rise above their peers, developing skills from elementary school to high school. In addition to an athletic focus, academics are also emphasized. Study time, personal tutoring and time management skills are all instilled in the Hawks program. Today, the Hawks have evolved from an inner city program targeting disadvantaged neighborhoods to a respected competitive league, bringing together players from different backgrounds.
"A portion of the families in our program don't have the financial capability to invest in extracurricular athletics," said MiDian Holmes, Colorado Hawks operations director. "The award will help our players receive national exposure at a competitive level by helping fund tournament entry fees, food, hotel, transportation and student athlete campaigns."