April 15, 2013
Celebrate Earth Day This Year
Recycle in New Ways!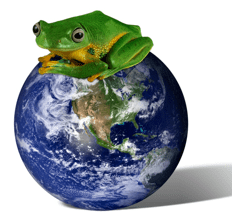 Earth Day is April 22nd! Here are seven ways to protect the earth by creating less trash.
Recycle paperboard. It's the thin cardboard packaging that holds many of the items we buy, like cereal and tissue. Pizza boxes aren't accepted because they may have food residue.
Recycle more paper. That includes school papers, junk mail, magazines and catalogs. Even window envelopes and colored paper can be recycled.
Don't put leftover food into the trash. About a third of what goes into the trash is food. Compost it instead.
Recycle electronics. E-waste is the fasting growing disposal problem in the country. Its components are both dangerous and valuable. Website buyback programs and qualified recyclers are listed at DoYourPart.com.
Think about how items can be reused. Glass jars are ideal for storing leftovers. Old holiday cards can be turned into gift tags. Sell sporting equipment in a yard sale.
Save outgrown or out-of-favor clothes so others can use them. Make a tax deductible contribution to a charity. Sell nice things on eBay or through a consignment shop. Even torn or worn-out clothing can be donated to Goodwill, which sells them to recyclers.
Buy food and drinks in larger packaging, like gallon bottles of water instead of individual bottles.