December 21, 2015
Denver's Applewood Plumbing Joins Reins with Colorado Therapeutic Riding Center
Colorado Therapeutic Riding Center in Boulder, Colo., is the recent winner of the $1,000 Caring Community Giveaway Award from Applewood Plumbing Heating & Electric.
Colorado Therapeutic Riding Center has helped thousands of people through their program and unique therapy. The Mission of the Colorado Therapeutic Riding Center is to change the lives of people with disabilities by promoting their physical, psychological and social well-being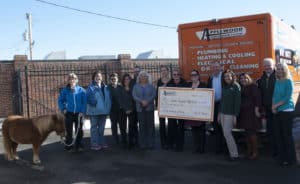 through equine assisted activities.
"This foundation helps children and adults with disabilities and brings smiles to their faces when they get to work with horses," said John Ward Applewood Plumbing Heating & Electric president.
Each year over 700 participants experience the challenges and rewards of Colorado Therapeutic Riding Center's services. The center serves children and adults with a wide range of special needs, such as cerebral palsy, developmental delays, sensory integration disorder, Down Syndrome, traumatic brain injuries, paraplegia, learning disabilities, multiple sclerosis, stroke, mental health issues and behavior challenges. Physicians, therapists, counselors, teachers, family members and friends refer participants to CTRC. Participants may come to CTRC as individuals or as part of a school, recreation, therapy or other group. No clinical diagnosis is necessary to participate; however, participants must have a need for their specialized, therapeutic environment.
"It is because of the generosity of people and companies such as yours that CTRC is able to provide their incredible services to people with special needs," said Sue Winthrop, Outreach and Education Coordinator.
Through the Caring Community Giveaway, Applewood Plumbing has contributed more than $100,000 monthly over the ten nine years to small, local nonprofits like the Literacy Coalition of Colorado and Colorado Pet Pantry.