December 30, 2015
Denver's Applewood Plumbing supports Food For Thought
Food For Thought is a nonprofit that helps feed over 2,000+ children and their families per week. Every Friday during the school year, volunteers fill PowerSacks of food for children to take home – enough nutritional food to feed a family of four. Food For Thought supports six Denver schools, including Garden Place Academy, Fairview Elementary, Greenlee Elementary and Columbian Elementary.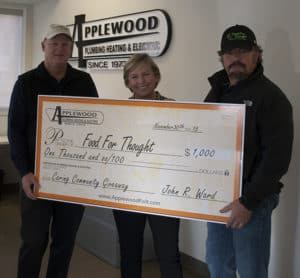 "Applewood is proud to partner with this organization," said John Ward, Applewood Plumbing Heating & Electric president. "The people who volunteer their time for this cause are truly inspirational. We want to do our part in supporting these kinds of community efforts."
The backpack program is not a new concept in Denver, but they are the first program where you have to opt-out rather than opt-in. "Food for Thought takes care of every kid in every school we serve, so if there are 450 kids in a school, then 450 kids get a bag," said Bob Bell, Food For Thought co-founder.
"The stories we heard just drop you to your knees that kids literally at the end of Friday were running to the cafeteria saying, 'Do you got anything left over?'" Bell said. "Although we're really proud of the 1,500 to 2,000 kids we serve," Bell says, "There are 30,000 kids in that same demographic, so it doesn't let you sleep well at night thinking, 'Yeah, you're really doing good, but you have a long way to go.'" Food For Thought plans to add additional schools to their program this year.
Through a partnership with Food Bank of the Rockies, Food For Thought spends approximately $5,000 per week on food. They have no salaried employees. Everything needed to support their efforts is donated; 100% of the money raised goes directly to purchasing food.
Over the past ten years, Applewood has given more than $100,000 in giveaways to charities and nonprofits in the Denver area.