June 26, 2013
Denver's Applewood Plumbing Strikes Another Chord with its Caring Community Giveaway
The news about the June winner of Applewood Plumbing Heating & Electric's Caring Community Giveaway is music to the ears of Denver's local community. Inside the Orchestra, or ISO, is the latest recipient of the $1,000 Caring Community Giveaway that Applewood offers to nonprofits each month.
"This is an inspirational group of people," said John Ward, Applewood Plumbing Heating & Electric president. "Inside the Orchestra goes to great lengths to give kids a special and unique opportunity and we're proud to be a part of that experience."
The organization celebrates nearly 60 years of orchestral work within the Denver metro area. Inside the Orchestra is focused on introducing young children to string, brass, percussion and woodwind instruments. Their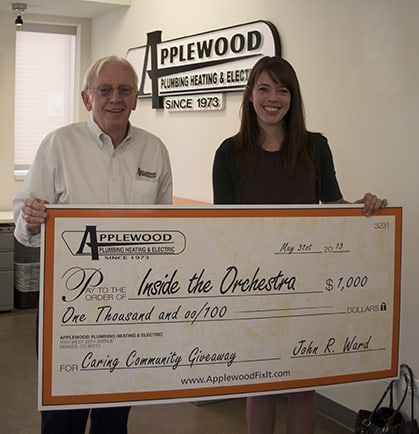 musicians travel to roughly 30 elementary schools yearly, immersing the students in music ranging from Beethoven to Star Wars.
ISO has reached 25,000 students, more than 85 percent of whom are from underprivileged communities. Since most of these children have limited exposure to the arts, the organization works hard to provide experiences that are otherwise scarce.
Funding is provided through memberships, parent-teacher organizations, donations and sponsorships. According to Shelby Mattingly, Inside the Orchestra's executive director, the Caring Community Giveaway award will open the door for more than 130 students to be engaged with live orchestra music.
The Tiny Tots Program is geared toward an even younger audience – 6-years-old and younger. The children are situated on stage while the sounds of the orchestra literally surround them with a truly one-of-a-kind experience.
Students in grades K-6 are given an opportunity to conduct solo performances before an audience of their peers through the Concerto Program. This program has successfully given soloists the experience, confidence and encouragement necessary to pursue advanced musical talents.
Over the past nine years, Applewood has donated more than $95,000 in giveaways to charities and nonprofits in the Denver area.