May 29, 2015
Denver's Applewood Plumbing supports Bienvendios Food Bank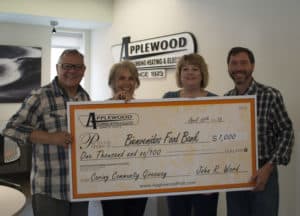 The $1,000 winner of Applewood Plumbing Heating & Electric's Caring Community Giveaway is a nonprofit that feeds 600 to 900 people every week.
The Bienvendiois Food Bank, a community based organization in Northwest Denver, has been helping neighbors in need for four decades. Through partnerships with places such as the Food Bank of the Rockies, Ready Foods and local grocery stores, Bienvendiois Food Bank is able to receive donated or purchased food at huge discounts to make every dollar donated go a lot further. They are able to turn a $1 donation into $9 worth of food.
"Applewood is proud to partner with this organization," said John Ward, Applewood Plumbing Heating & Electric president. "The people who volunteer their time for this cause are truly inspirational. We want to do our part in supporting these kinds of community efforts."
The Bienvendiois Food Bank focuses on providing healthy food options. "We make it a priority to provide healthy options each week. We purchase fresh fruits and vegetables knowing that many families choose not to buy these foods due to their expense. We also try to make available things such as healthy snacks, yogurt and staples such as flour, rice and beans," said Greg Pratt, Executive Director.
The Bienvendiois Food Bank is open nearly every week, conveniently in the morning and evening, and there are no restrictions on how often families in the service area may come for assistance. However, about 80% of their clients only use the food bank 4 times a year or less.
The $1,000 will be used to purchase food for the Bienvendiois Food Bank.
Over the past nine years, Applewood has given more than $95,000 in giveaways to charities and nonprofits in the Denver area.