December 8, 2022
Holiday Lighting: Electrical Safety Tips That Could Save Your Home
The contrast between the cold dark nights and the bright warm homes make the holidays one of the most festive times of the year. Unfortunately, hundreds of families could lose their homes to fires caused by the very lights that provide so much holiday cheer.
Every year, 770 home fires start with holiday lights and other decorative lighting and another 230 home fires begin with Christmas trees, according to the Electrical Safety Foundation International. According to the National Fire Protection Association, holiday decorations caused an average of $13 million in direct property damage annually from 2015 to 2019.
Checking your equipment and taking the appropriate steps beforehand could save you the trouble of having to deal with huge damages down the road. Before you start untangling those extension cords, read our holiday lighting safety tips.
Check Your Decorations Carefully
With each string of lights, look for:
Bulbs with cracks
Broken sockets
Exposed nicks or frayed wires
If you find any of these defects, don't use the lights and instead acquire another set. Though this process can be tedious and time consuming, taking these preemptive steps can reduce risk of a serious electrical issue.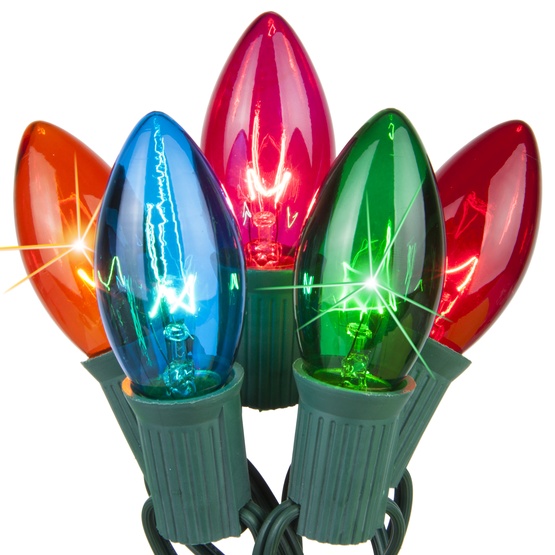 Use the Right Lights and Cords
There is a difference between indoor lights and outdoor lights. This rule also applies to extension cords. Outdoor lighting is manufactured and tested to endure rain, winds and other weather conditions.
A red UL on the package certifies that the lights are approved for outdoor use.
A green UL listing means that the lights have been approved for indoor use.
To make this easy, store each kind separately- outdoor together, indoor together- to ensure correct use each year.
Don't Overload Your Circuit
Each circuit in your home can only handle a certain number of lights or amount of electrical current. Overloading a circuit can cause it to "trip," which disables the circuit. It's important to pay attention to the circuit rating on your lights' labels, which will tell you how many lights your circuit can manage.
Most home electrical outlets are on circuits rated to 15 or 20 amps. Compare that to the amp-rating of your lights (shown on the box or on a tag on the string) and be sure to not use too many strings on a single circuit. You can also divide a light string's watt usage by 120 to find how many amps it uses. When plugging in lights outside, remember to use a ground fault circuit interrupter. GFCI outlets reduce the risk of shock from faulty plug-in cords by detecting dangerous ground faults and immediately shutting off the power before it can cause a shock or fire.
Use Plastic Hooks
When it comes to hanging your lights, avoid using metal staples or nails. The sharp edges on them can pierce the insulation and cause a shock or fire hazard. Instead, use plastic hooks. They come in many sizes and shapes and are easier to install and remove.
Switch to LED Holiday Lights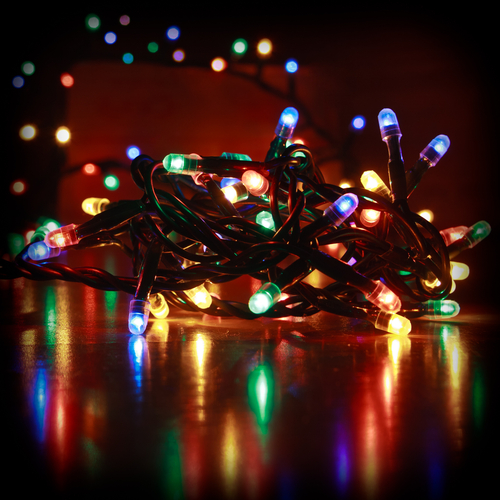 In a time of excessive power use, any steps that reduce your costs and carbon footprint is beneficial. Though incandescent bulbs cost less upfront than LED's, the overall savings of using LED lights could pay out more in the long run when it comes to your overall holiday energy use.
Here are some LED lighting statistics to brighten your holiday:
Running LED holiday lights on one 6-foot tree for 12 hours per day for 40 days can save 90% or more energy when compared to traditional incandescent holiday lights.
LED holiday lights last longer; they have an operational life span of roughly 20,000 hours, enough to last for 40 holiday seasons.
LED holiday lights are cooler than incandescent bulbs, reducing the risk of fire and personal injury.
LED holiday lights are made in the same shapes and varieties as typical incandescent holiday lights, but LED holiday lights are more durable than incandescent bulbs, with the lamp shape typically made out of a solid plastic rather than glass.
Because they use less power, it is safer to connect multiple strings of LED holiday lamps end-to-end without overloading your electrical socket.
LED mini-lights utilize 1/10th the power of conventional incandescent mini-lights, thus 1,000 LED lights will use approximately .33 amps. This means you can install 363 strands of 100 LED mini-lights on a 15-amp circuit or 484 strands of 100 LED mini-lights on a 20-amp circuit.
Keep Your Tree Healthy
If you hang your indoor lights on a live tree, it's important to keep that tree as hydrated and healthy as possible. Even though indoor lights are regulated to burn bright but not hot, a dried tree may have a higher chance of sparking, especially if it's in a dry climate.
Bonus Holiday Light Tips
Here are a few more miscellaneous tips to keep your holiday light installation safe, bright and energy efficient:
Always purchase electrical decorations and lights from reputable retailers.
Use lights approved for safe use by a nationally recognized testing laboratory.
Never connect more than three strands of incandescent lights together.
Before you shop, take measurements around your home to purchase enough lights for your needs
Before decorating, determine how many outlets are available and where they are located. Plan your displays accordingly. Install more outlets if needed.
Use outdoor timers — ideally, digital with battery backup.
Make sure that cords are not pinched in doors, windows, or under heavy furniture, which could damage the cord's insulation.
To keep your pets from chewing on cords, we recommend coating them with a bitter anti-chew cream that should keep your pets away.
Keep all decorations away from heating sources, including space heaters and fireplaces.
Make sure your smoke detectors are working.
Always unplug electrical decorations before replacing bulbs or fuses.
Turn off all indoor and outdoor electrical decorations before leaving home or going to sleep.
Outdoor Holiday Light Safety in Denver and Boulder
If you need extra outlets, outdoor lighting solutions, additional circuits or other help with your holiday display, call the pros at Applewood. We want your neighborhood to feel safe and festive all season long!