Sertoma Soap Box Derby Wins Sept. $1,000 Giveaway
September 6, 2007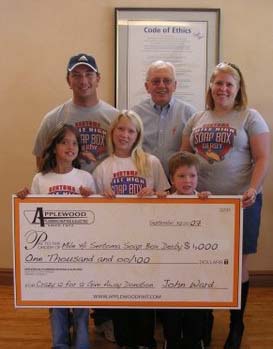 On your mark, get set, GO! As September's winner of the Applewood Plumbing Heating & Electric's $1,000 Giveaway, the Sertoma Mile High Soap Box Derby will be seeing more checkered flags and green lights.
"The money will be put in our general fund," said Director Steve Colvin, as he received the winning check from Applewood's owner John Ward on Tuesday, Oct. 30, 2007. "This Giveaway will help fund a trip to the World Championship finals in Ohio," he said.
The Sertoma foundation is an international organization dedicated to the "service to mankind." There are more than 20,000 members in the 650 clubs across the nation. Their main focus is community service projects helping children with hearing impairments.
The Sertoma Mile High Soap Box Derby is a youth racing program. Boy and girls, ages eight to 17, compete in simplified cars built from kits purchased from the All-American Soap Box Derby. These kits provide a step-by-step layout for construction of a basic, gravity-powered car. The Sertoma Mile High Soap Box Derby currently has 14 out of 30 kids who are hearing impaired. "The race gives them the opportunity to do something they might not normally be able to," said Colvin.
The three different isions for racing include: Stock, Super Stock and Masters. The Stock ision is designed to give the first-time builder a learning experience while the Super Stock ision, gives the competitor an opportunity to expand their knowledge and build a more advanced model. The Masters ision offers more of a creative skill level and is for the older aged kids, according to Colvin.
"The process involved in all three isions creates a learning experience and a sense of responsibility for the kids. They are responsible for going to local businesses and asking for sponsorship of their cars and are encouraged to construct the cars themselves, with little to no help from an adult," said Colvin.
"It's terrific to see kids learning responsibility," said Owner John Ward. "The Giveaway is a wonderful opportunity to help community youth learn, grow, and have fun doing it," he said.
In addition to the lessons in the responsibility, the Sertoma Mile High Soap Box Derby teaches the kids some of the basic skills of workmanship, the spirit of competition and the perseverance to continue a project once it has begun. "These are the same traits we look for in our own employees," said Ward.
With support from Applewood Plumbing Heating & Electric, the Sertoma Mile High Soap Box Derby will give more kids the opportunity to race to the finish line while learning in the process.