February 9, 2023
The Benefits of A Tesla Home Charger
In 2022, Colorado added 20,000 new electric vehicles (EVs) to our roads. Tesla is the most popular brand and Colorado is eighth in the country for Tesla dealerships. With electric vehicle sales now accounting for about 10% of all automobile sales in the state are you planning to add one to your garage?
We see Denver and Boulder residents buy Teslas without realizing what's involved with charging them. As your family owned, community-oriented home services provider, we thought we'd answer some of the more common questions future Colorado Tesla owners might have including how to charge your vehicle, how long it takes to charge a Tesla and how the cost might impact your electric bill. Having an EV charging station at home is a good investment, but make sure you know what you're getting into first.
How To Charge a Tesla at Home
Many people assume that you can simply plug your Tesla into your home wall outlet and be ready to drive in a couple of hours. While this is partially true, you won't get very far. To plug your Tesla into a home outlet and use your 120 volt system to charge it, you'll first need an adapter. These adapters are inexpensive and allow you to use your home's electricity to charge your vehicle. However, this method only gives you 2-4 miles of travel for every hour you charge. If you're planning to drive more than 20 miles in a given day, you'll probably want a faster option.
If you install a 240 volt outlet (like you use with a dryer) into your home you can get a Tesla level 2 charger adapter. This gives you a speedier charge time that is roughly six times faster or 12-24 miles per hour of charging time. While this may seem like a good option, if you're going to do any serious electrical work, you may as well install the proper charging system.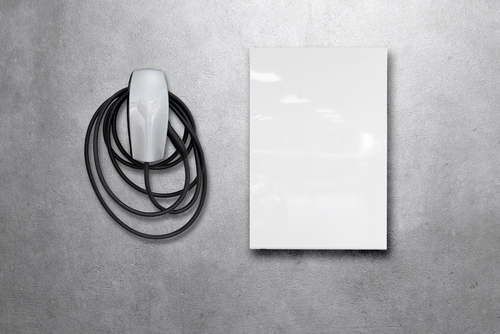 The manufacturer's recommended method for charging your vehicle is with the Tesla wall connector. This dedicated Tesla wall charger gives you the fastest and most reliable in-home charge for your car. To use the wall connector, you will need to order it from Tesla and then have a licensed electrician perform the installation. Contact Applewood to schedule a Tesla charger installation with one of our licensed electricians before you bring your new vehicle home.
How Long Does it Take to Charge a Tesla?
Tesla batteries are lithium-ion which means that you can charge them anytime without having to run them down first. Tesla recommends you plug your car in every night to top off the charge so that you always start the day with a full battery.
If you're using a Tesla home charging station, the charge time will depend on how many amps your home circuit carries. Most circuits in the United States are 15 or 20 amps which translates to 10-14 miles per hour of charge.
Teslas that are in the "sweet spot" of 20-80% battery power will only take a couple of hours to top off. To charge an empty battery, the average runs 8-10 hours. The company provides the following chart to further explain Tesla charge times:
Wall Connector Technical details
Max miles of range per hour of charge
| | | | | | | |
| --- | --- | --- | --- | --- | --- | --- |
| Circuit breaker(amps) | Maximum output(amps) | Power at 240 volts(kilowatt) | Model S(mph) | Model 3†(mph) | Model X(mph) | Model Y(mph) |
| 60 | 48 | 11.5 kW | 41 | 44 | 35 | 44 |
| 50 | 40 | 9.6 kW | 34 | 37 | 29 | 37 |
| 40 | 32 | 7.7 kW | 27 | 30 | 23 | 30 |
| 30 | 24 | 5.7 kW | 21 | 22 | 17 | 22 |
| 20 | 16 | 3.8 kW | 14 | 15 | 12 | 15 |
| 15 | 12 | 2.8 kW | 10 | 11 | 9 | 11 |
Tesla Charging Data
As you can see, chargers with greater amperage are significantly faster. Consult with an licensed Applewood electrician to learn what type of charger makes sense for your home. Your choice may depend on your circuit breaker panel's capacity, your driving needs and the time in between trips. Keep in mind that if you have two Teslas, you will need two charging stations to charge both at the same time.
How Much Does It Cost to Charge A Tesla?
The average cost to charge a Tesla, based on the national average cost of electricity, is $13.96. This number varies, depending on what model you drive but the range remains between $10-18 per charge.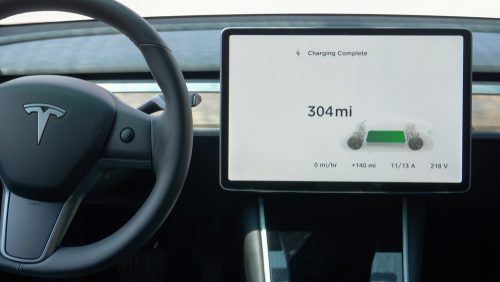 The current price of electricity in Denver is 16¢/kWh. Given that most Tesla batteries carry 85-100 kWh, you're looking at $13-16 for a complete battery charge in the Denver area. If you follow Tela's recommendation to charge your vehicle nightly, you'll only incur smaller regular upcharges to your utility bill.
This of course begs the question: How far can a Tesla go on one charge? The 2023 Model 3 – currently the most popular in the Tesla line – averages 272-315 miles per battery charge. This is consistent with gas powered cars which average 200-400 miles per tank of gas. Given that gas runs upwards of $50/tank, your electricity cost is a good investment, not to mention the greenhouse gasses you avoid adding to the ozone layer.
Your Tesla Home Charging Station Experts
Electrical work, including the installation of home charging stations for electric vehicles, requires the proper permit along with the expertise of a licensed electrician.  If you're looking to add a Tesla to your family fleet, contact us today. Applewood is your local, family-owned Denver, Boulder and Longmont electrical services contractor. We help families charge their vehicles and power their lives everyday. Our employees and their families appreciate your support.