December 1, 2020
Winter Caring Community Giveaway Winner
Applewood Plumbing dubbed Colorado Fourteeners Initiative as the winner of the $5,000 winter Caring Community Giveaway.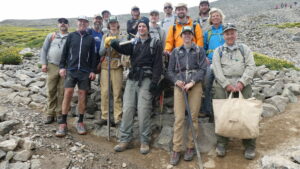 "With the fires that destroyed acres of Colorado's forests still fresh in our minds, we are glad to be able to support this cause that helps to rebuild and keep Colorado's natural beauty alive," said Josh Ward, owner of Applewood Plumbing Heating & Electric.
After losing much of their normal funding, CFI wanted to thank Applewood for hosting the Giveaway and everybody in the fourteener community that voted for them.
"This is an extra impactful gift for us this year," said Brian Sargeant, Development and Communications manager for Colorado Fourteeners Initiative. "It will go to fund our
Adopt-a-Peak group."
With the mission to protect, retore and educate, CFI has completed projects ranging from educating those who climb the fourteeners to restoring the landscape damaged by users to the building and maintaining of new and old trails.
Some of CFI's current trail projects include Mount Elbert, Mount Columbia, and Grays and Torreys Peaks. Their educational efforts include community presentations, short videos, kiosks, a YouTube channel and more.
The other two finalists, Conservation Colorado and Wildlands Restoration Volunteers, also work to improve and protect Colorado wildlands. Though they did not win the grand prize, Applewood is awarding both of these organizations $500 each to help continue their efforts.
Local community charities are nominated by Applewood employees. Votes are gathered from the community for the nominated organizations each quarter. Applewood's next Giveaway will begin Feb. 8, 2021 and will focus on nonprofit organizations that support mental health initiatives.
The Giveaway has donated more than $200,000 to local non-profits over the past 15 years and plans to continue to support the community for years to come.