EV Home Charging Stations in Denver and Boulder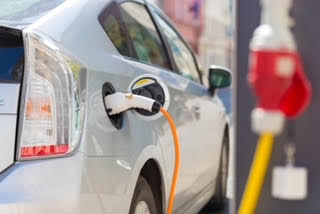 Looking to reduce your footprint and contribute to cleaner Colorado air? Electronic vehicles (EV) are becoming more popular in Colorado and Applewood is here to keep them charged. Let us install a home charging station so your vehicle is always ready when you need it.
An EV home charger makes it easy to own and maintain an electric vehicle. With Denver's goal of 30% electric vehicles on the road by 2030, we're seeing increased interest in EV charging station installation.
We offer two levels of charging stations to make sure your home has the right electric vehicle supply equipment (EVSE) to adequately power your vehicle.
EVSE Level 1 Charger
Level one chargers use a standard 120-volt AC plug to charge your vehicle. This is the same level of current used in most homes to power electronics and appliances.
Pros: A simple and inexpensive solution. Level one chargers use the existing amperage in your home. An electrician would simply route a dedicated circuit for your EV home station. 120 volts will charge most electric vehicles.
Cons: Slower charging times. It may take upwards of 30 hours to fully charge your vehicle. If you don't drive every day or have a short commute, this may be sufficient. With an 8-hour charge you should be able to get about 40 miles of driving distance.
EVSE Level 2 Charger
Level two chargers use a 240-volt plug to charge your vehicle. This is similar to the dedicated circuit your home would use for a dryer or electric range. Some homes have 240-volt circuits already, older homes may need to have their electric panel upgraded.
Pros: Faster charger times and greater convenience. Fully charge your vehicle in a matter of hours. A level two charger adds about 10-60 miles of driving time per hour of charging.
Cons: Requires special setup at additional cost. May require upgrade to home electric system.
Considerations for Choosing a Home Charging Station
When choosing EV home charger installation, there are several factors to consider so that both your home and your vehicle are properly supplied with power.
Cost. What is your budget?
Charging time. How quickly do you want to charge your vehicle?
Home electric panel. Does it support your power needs?
Home power use. How much electricity do you use monthly?
Driving distance. How far do you need to go?
Driving frequency. How often do you use your vehicle?
Car battery size. Smaller batteries should be filled daily.
Number of electric vehicles in household. More may require faster charging.
Climate is also a factor with electric vehicles. Colder climates, like Colorado, mean longer charging time to warm the battery and more power used while driving. Take our winters into consideration as you plan.
Charge Your Electric Car at Home
Call or contact Applewood to discuss the best option for charging your electric vehicle at home. One of our technicians can assess your home's power supply and suggest a long-term solution to keep your electric vehicle on the road.