November 13, 2019
Applewood Awards Young Voices of Colorado $1,000
Applewood Plumbing Heating & Electric awarded $1,000 as part of their monthly Caring Community Giveaway to Young Voices of Colorado.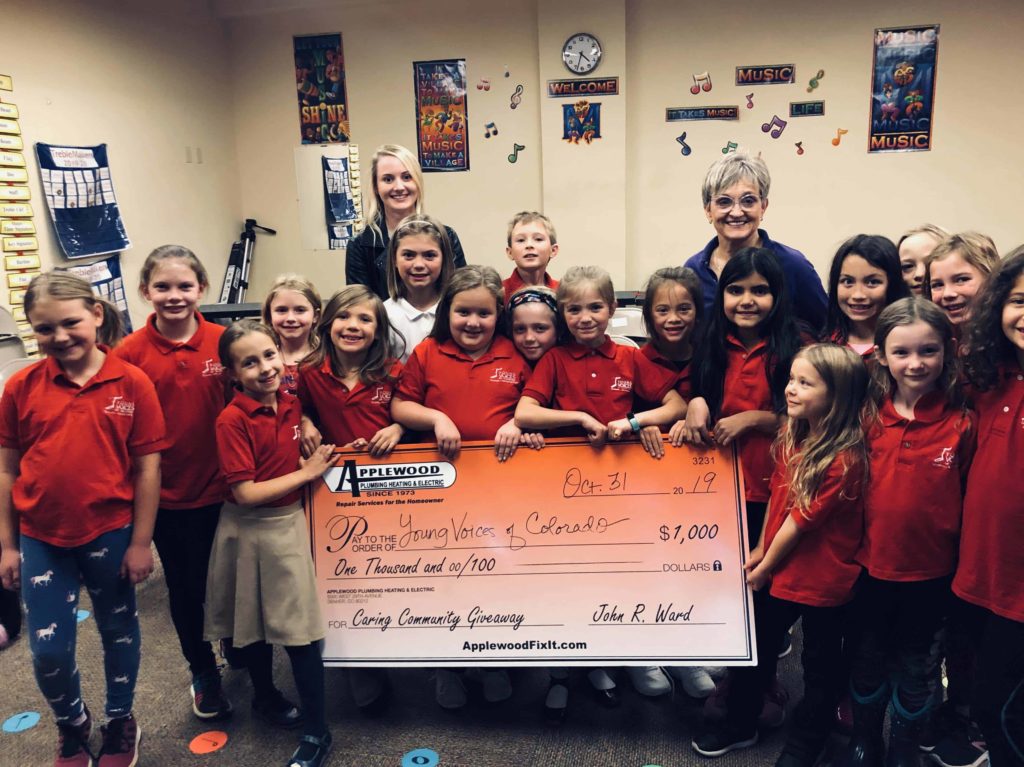 Young Voices of Colorado (YVC) is a non-profit youth choir serving the Rocky Mountains. YVC is open to children ages 5-18 with the mission to inspire a lifelong love of singing. During choir practice, children are taught correct vocal placement, tone, intonation, sight-reading, solfége, music theory and expression; all while performing everything from classical to contemporary music.
The choir members are also taught how to sing in multiple languages. YVC members learn the value of discipline through high performance standards, attendance rules and professional appearance.
"Young Voices of Colorado is providing amazing opportunities for young people who enjoy music. We love supporting the passions of the youth in our community. It's great to hear that our donation will assist in providing a scholarship for a student." said John Ward, Applewood Plumbing Heating & Electric President.
In addition to conducting their regular choir students, Jena Dickey and Margie Camp, Directors of Young Voices of Colorado go to local elementary schools and teach students how to sing and create music. They act as guest clinicians who can provide feedback to choir and music teachers. Both Dickey and Camp welcome local music teachers to observe a choir rehearsal at any time to learn valuable tips on how to spread the love of music.
Young Voices of Colorado is a great organization with the main goal of making well-rounded individuals who have a passion for singing. If you are interested in upcoming holiday choir events, please visit their website https://youngvoices.org/.