May 9, 2019
John Ward, Applewood president, honored at Denver Post Top Workplaces event
Wednesday, May 1, John Ward, the president of Applewood Plumbing Heating & Electric, was given a special honor as a top leader among his peers in the mid-sized company category for the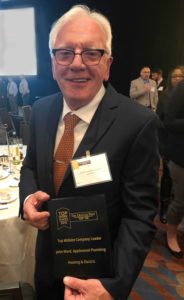 Denver Post's Top Workplaces program.
With hundreds in attendance, Ward was recognized and presented a plaque to commemorate his outstanding leadership qualities.
"I'm incredibly honored to have received this award. I owe my success to hard work, strong ethics and understanding that your employees are the ones who ensure your success daily," Ward said.  "I'm always humbled that so many talented individuals want to work for us and serve our customers with the same caliber of expertise and care that I would myself."
There were 50 companies recognized in the mid-sized company category, of which, Applewood ranked seventh overall this year. Ward rose above his peers through survey comments and results that specifically gathered perspectives on company leadership style, trust in leadership and other management attributes. Of all the mid-sized companies participating, Ward ranked the highest on the statement "I have confidence in the leader of this company".
Ward has long been an industry leader and recognized as a role model for others in home repair services. He has participated in trade peer reviews, contributed to the formation of a foundation for the trades and currently offers scholarships to electrical, plumbing and heating students at Red Rocks Community College.
Applewood has been recognized by the Better Business Bureau, 5280 Magazine, the Golden Rotary and others for their ethical business practices, customer service and professional expertise.  The company is the largest family-owned home repair service in the metro area and currently has more than 160 employees serving more than 300,000 customers from Longmont to Castle Rock.
The company is also recognized for its strong community ties, where it sponsors several events and organizations such as the Dumb Friends League, offers families respite at Applewood House and contributes $1,000 monthly to local nonprofits.